Party easy: Healthy, elegant salads for parties
Pretty, yet hearty main dish salads are excellent party fare choices for a ladies' luncheon, a bridal or baby shower, or any other gathering of friends and family.
Serve guests elegantly by putting each salad in a beautiful, colorful or solid white serving dish or large bowl lined with lettuce leaves. Set out pretty baskets filled with a variety of breads. A nice assortment includes pita pockets, rolls, French bread, rye bread, and whole-grain pre-sliced breads.
When choosing salads to serve your guests, be sure to include several types, to appeal to everyone. Here are recipes for easy, healthy salads your guests are sure to love: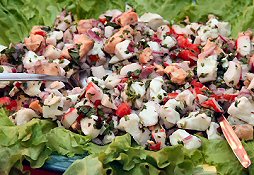 Fancy fresh crabmeat salad
Serves 8
8 Tbs. fresh lemon juice
4 Tbs. distilled white vinegar
2 tsp. salt
1/2 tsp. cayenne pepper
4 Tbs. chopped fresh dill
4 tsp. olive oil
2 lbs. fresh lump crabmeat
4 small cucumbers, diced, about 2 cups
4 Tbs. minced red onion
Directions
In a medium bowl whisk together lemon juice, vinegar, salt, cayenne, dill, and olive oil.
Discard any cartilage from the crabmeat. Transfer crabmeat to bowl of dressing and toss. Fold in cucumbers and red onions and serve.
More delicious food for parties