Cocktails and appetizers for a crowd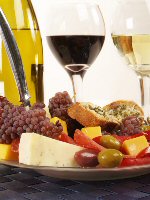 Hot and cold hors d'oeuvres start any party on a festive note. But estimating quantities is always a challenge.
How many party appetizers? When it comes to hors d'oeuvres, the general rule of thumb is 5 to 6 pieces per person and a total of between 6 and 8 different types of hot and cold hors d'oeuvres.
[Note: For more detailed hors d'oeuvres quantity guidelines, see green tinted box below.]
If possible, it's always nice to have hot hors d'oeuvres passed around, so guests can enjoy them while they're still hot. Cold appetizers can be passed, too. Or party appetizers can be placed on trays and set out on tables. Having the trays placed on more than one table encourages guests to move around and mingle.
Always-Welcome Party Appetizers for 50 Guests
In addition to serving a variety of miniature treats, it's probably a good idea to offer up the easy-to-eat nibbles that everyone loves. You can never go wrong with:
Beverages
There are no hard and fast rules about what beverages to serve for what occasions. Some hosts and hostesses choose to serve only champagne cocktails or punch (with or without alcohol) or champagne. Some offer choices of domestic and imported beer and several types of wine. And still others offer a full range of alcoholic and non-alcoholic beverages, including wine, hard liquor, champagne, and after-dinner drinks, as well as a variety of regular and diet soft drinks, fruit juices, and of course, chilled water. The choice is yours.
Once you've decided what to serve, here's how to estimate how much you'll need.
Figure:
3 drinks per person for a 3-hour party;
4 drinks per person for a buffet; and
5 drinks per person for a dinner party that extends into the night.
Note: The quantities of wine and champagne listed below assume that this is the only beverage you'll be serving. Of course, if you're serving a number of beverages, you'll need less than that amount. Still, it's better to have too much than not enough. Be sure to ask the owner of the liquor store if you can return unopened bottles.
| | |
| --- | --- |
| Ice | At least ½ lb. per person; 1 lb. if most beverages will need ice |
| Punch | 1 gallon yields 30 five-ounce servings; figure 2 to 5 servings per person, or 5 to 6 gallons |
| Wine | 1 bottle (750ml.) provides 5 servings; figure about 36 bottles |
| Champagne | 1 bottle (750 ml.) yields about 6 servings; figure 25 bottles for 50 people. |
| Liquor | 1 serving is considered 1 ½ ounces; each 750 ml. bottle provides 17 servings. To be safe, have at least 3 bottles each of gin and vodka, plus 2 bottles each of Scotch, rye, bourbon and rum. A bottle of tequila may also be a good idea. |
And of course, don't forget the lemons, limes, cherries, oranges, cocktail onions and olives.
How Hungry Will Cocktail Party Guests Be?
Many caterers figure 5 to 6 hors d'oeuvres per person. However, the number you'll need could be less--or more than double that amount! Some common sense guidelines:
If people know there's a full sit-down dinner after cocktails, they're less likely to fill up on hors d'oeuvres. Therefore, the 5- to 6-piece estimate could be lowered to 3 or 4 per person; conversely, if nibbles will be all that's on the menu, you may want to think in terms of 10 to 12 pieces for every guest.
If guests are invited to a cocktail reception only, the time of the event is important in estimating quantities to serve. The closer cocktails are to regular lunch or dinner time, the hungrier guests will be.
Younger crowds eat more than do older adults.
Men tend to eat more than do women.
You might also enjoy:
More ways to make holidays memorable