Party drinks: alcoholic beverages hostesses are serving now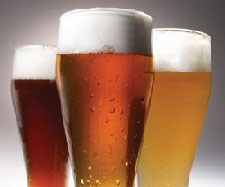 Everyone, these days, is looking for value. And that includes people planning parties and events. Not surprisingly, a new study shows that when choosing the alcoholic beverages they're going to offer guests, buyers are less likely to trade up to premium brands than they were only a couple of years ago. This is true, the study found, when people buy liquor or so-called distilled spirits.
Also, as many event planners and other experts note, at many cocktail parties and large affairs today, the open bar is often being replaced by signature cocktails plus wine and beer.
And while beer remains a trendy beverage to serve guests, some beers are more likely than others to be invited to the party.
Mexican, Irish, and Belgian beers more popular
The most popular premium brews? Sales of Corona Extra were down 3.5%. But other Mexican imports have been doing well. Among them: Modelo Especial (up 12.2%), Tecate (up 6 %), Corona Light (up 5.1%) and Dos Equis (up 12.6%). (Perhaps you might try one of these brands if you're planning a Cinco de Mayo party!)
Among European beers, Heineken sales were down 4%. Heineken Premium Light was down 1.1%, and Amstel Light sales declined by 10%. German beer sales also were off by 5.6%.
However, Irish and Belgian are still growing in popularity. The beers of Ireland gained 4.6% and those from Belgium enjoyed a 12.9% increase in sales.
Among domestic beers, the light beers still dominate, and now represent 52% of all beer purchases. However, craft beers-those brewed by relatively small breweries that typically cater to regional consumers-continue to grow in popularity, and now make up almost 4% of all beer sales.
Most popular imported wines
When it comes to wine, imports were down 1.7%. But sales of Australian wines, and wines from Argentina, Chile, and New Zealand continue to grow. One reason is that hosts and hostesses are finding affordable but well-regarded wines to serve when entertaining guests.
Click here to find some great values in imported wines.
Beer image courtesy of The Beverage Information Group
Here are some products you may want to consider for your next party:
Stemmed Pilsner Glasses The Cellar 7-Piece Beer Set Lager Glasses
You might also enjoy:
More delicious food for parties