Affordable fashion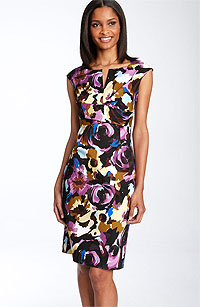 Looking for the perfect dress for an upcoming cocktail party or night out on the town? Here are this season's top trends—gorgeous styles (See some pretty examples, below!) that will keep all eyes on you:
Bright and bold: This fall's fashion palette is full of vibrant jewel colors. Among the most popular: sapphire blue, emerald green, and topaz gold, as well as bright orange, red, and even rich fuchsia. You'll also see several shades of purple that are all the rage, including orchid, violet, and deep eggplant.
Prints: Choose your fashion personality. Prints allow you to be very free and expressive, this fall. Anything from a flirty floral to a bold geometric, to a sexy, mysterious animal print is very trendy now.
High shine: If you like to shine, you'll love glittery metallics and shimmery satin dress fabrics. These are great for any occasion and will help you glow, whether in bright light or candlelight.
Loose and flowing: Styles that were popular in the summer, such as the bubble and baby doll dress, continue to be trendy in the autumn months. More defined for fall: raised empire waistlines and flattering, angled wrap styles.
Fun additions: Accents such as belts, shiny sequins, ruffles, and pretty bows add a little pizzazz to even the most classic, timeless styles.
Also hot: Velvet is definitely in, as are chunky, clunky metallic or other statement jewelry and bright-color handbags.
Dress featured above: Donna Ricco Split Neck Stretch Cotton Sheath Dress
Check out these high-fashion dresses and some of Fall's most fabulous dress collections, below!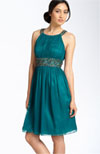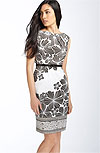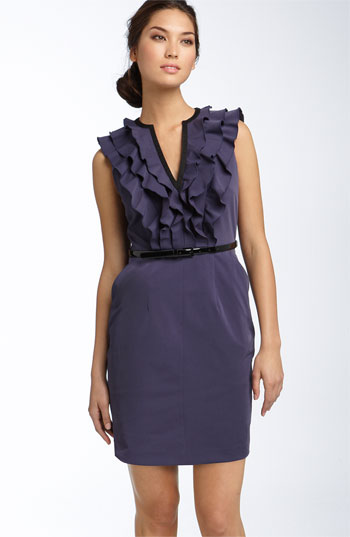 Beaded Chiffon Dress Belted Stretch Cotton Sheath Dress Ruffle Trim Dress
Rainwashed Rose Print Dress One Shoulder Silk Dress Turtleneck Printed Dress
Dress with Beaded Neckline Dolman Sleeve Printed Dress Faux Leather Sheath Dress
You might also enjoy:
More great ways to look fabulous