Party clothes get colorful for Spring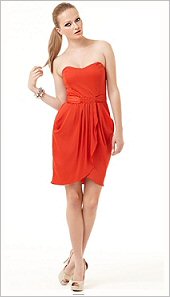 Party clothes for Spring are more colorful than they've been in years!
It's almost as if designers got together and decided, "Enough of a gray outlook. Let's think positive, bright, cheerful!
Some of the top fashion trends forecast for Spring 2011 include:
Brighter colors
Sheer fabrics
More pattern
Fluid dress lines
Kimono sleeves
Ruffle trim
Trouser leg pants
Here are some bright and fashionable looks for party clothes that are pretty, stylish, and affordable:
This colorful party dress shown above, will capture guests' attention in any party setting. It's a BCBGeneration Strapless Pleated Tulip Sheath, available at Macy's. Its fluid lines and shaped and draped detail make it a fashionable find--and on sale for $74.99.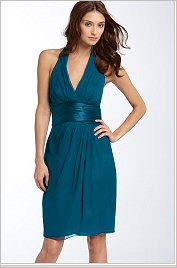 This flattering v-neck, right, has just the right combination of structure and fluid lines. The Maggie London Chiffon and Charmeus dress is from Nordstrom. It features the contrast of charmeuse and chiffon, plus a soft surplice halter neckline. On sale at $87.90.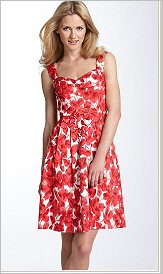 "Bright and cheery" doesn't begin to describe the feeling that wearing this Spring-into-Summer white and watermelon Donna Ricco print stretch cotton dress, left, will give you. It's sold at Nordstrom for $118.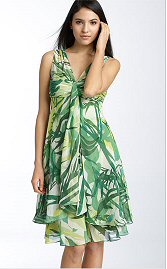 Floaty and feminine, this Donna Ricco print stretch cotton dress, right, features a split-front overlay at the shirred bodice. Straps are sheer for a light, fresh look. Available at Nordstrom's: $158.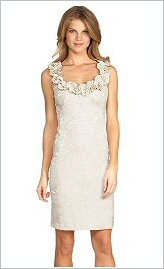 Rosette trim around a graceful scoopneck makes this London floral cream jacquard dress, left,
all the more elegant. Available at Dillard's: $158.
More great ways to look fabulous