Outdoor parties: Keeping guests comfortable
Renting a party tent for an outdoor affair is often a good idea. However, keeping guests out of the sun or rain is only part of the challenge. You need to keep them comfortable, too.
If the temperature inside a tent is either too hot or too cold, it doesn't matter how great the party food was or that the DJ was fabulous. All your guests will remember is sweating or freezing--and being miserable.
To be sure guests are comfortable and happy—both in tents or on your patio—here are some guidelines adapted from advice on the American Rental Association's RentalHQ Web site.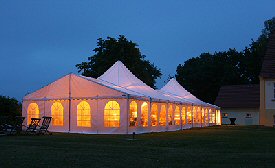 Warm guests on a chilly night
Basically, there are two types of tent heaters: direct-fired and indirect fired. Indirect-fired units may be a better choice, as they eliminate combustion, which can cause dizziness, burning eyes and nausea.
A safe direct-fired option may be 7-foot-tall patio heaters, which feature aluminum umbrellas that reflect heat down toward party guests.
Patio heaters work best in chilly (around 50 degrees), but not cold, temperatures
These units throw heat between 12 and 15 feet in all directions
Rule of thumb: Use one patio heater for every three or four tables
These heaters are great for decks and patios, too.
More expert advice and party planning tips