Our Wonderful Holiday Progressive Party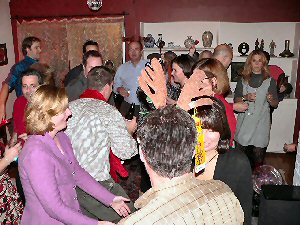 Dessert and dancing
At around 10:30 p.m., the party moved on to our house. We had a disco ball already hung to catch the light from the Christmas tree, and a strobe light. Desserts were quickly put out. They included:
A cheese plate, featuring: brie, Gouda, and blue
*Poached pears, served with caramel ice cream
*Individual 3-inch pumpkin chiffon pies
Brownies, and two types of chocolate chip cookies
For many of us, the best part of the evening is the dancing that goes along with the dessert. My husband, Rick, is a real DJ hobbyist. He loves to create mixes from his collection of more than 1,500 CDs. He puts together some fantastic dance playlists designed to build momentum. (See "Rick's Progressive Party Mix.")
Before long, our living-room furniture had been pushed aside and everyone danced and danced and danced. The final group members didn't leave until about 2 a.m.!

Why this party works so well
Why are our parties so fabulous? Our progressive dinner parties are successful because what we're most interested in--much more than anything else--is simply getting together and having fun.
We're all busy people with children of all ages—
working moms and dads who have houses to run. We don't need complicated and extravagant party themes!
Another reason it works is that this is not a night for our children or to raise money for a cause. It is simply a night that is all about us. The idea is to have fun, relax, be ourselves and enjoy the evening. We work so well together. Everyone contributes and everyone helps clean up.
Will we do this again next year? Absolutely! As usual, we'll try to have several gatherings throughout the year. But none of the parties will be as grand as the Holiday Bash.
Note: Emily Persons, who contacted Celebrate with Style to let us know about her group's forthcoming progressive party, is the owner of J. Fleet Designs, a company that produces handmade lacquerware in Vietnam and exports the items to the United States. Her company sells beautiful boxes, bowls, and serving trays, among other decorative home accessories, to retail gift shops.
More ways to make holidays memorable