Our Wonderful Holiday Progressive Party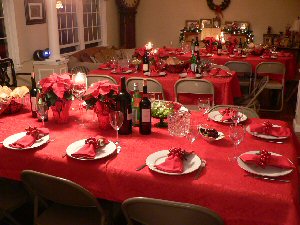 Next stop, the main course: Dinner for 32
At about 9 p.m., the party moved to the second house. The hosts transformed their dining and living room into a red holiday wonderland. Three tables were set so we could enjoy a perfect sit-down dinner.
Many helped in the preparation of the meal. The menu for the main dish portion of the progressive party (*= recipe included. See link for selected "Progressive party recipes" below) consisted of:
*Stuffed pork roast tre colore (stuffed with roasted red peppers, spinach, and mozzarella cheese)
Shrimp scampi
Pasta with sautéed broccoli rabe
Roasted potatoes
French string beans
Asparagus
*Cauliflower au gratin
Baskets of bread
*Salad with fruits, nuts, and blue cheese, with honey Dijon dressing.

Many people helped to clean up after the main course. That way, the hosts didn't get stuck cleaning the dishes for 32 people!
Next, it was on to dessert and dancing.
More ways to make holidays memorable