Our Wonderful Holiday Progressive Party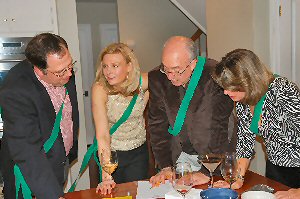 This year: Cocktail Hour
The cocktail hour is always very festive; everyone is so happy to see everyone else. This year, the party started at 7 p.m. The hors d'oeuvres included seared tuna sushi, shrimp cocktail, baked brie, spinach rolls, and spicy shrimp with peanut sauce.
For drinks, there were beer and wine. In addition, there's always a special signature cocktail. This year, it was grapefruit margaritas.
Three years ago, two of the women suggested playing a game during the cocktail portion of the evening, to liven things up. We now play games each year, and they're a big part of the fun.

Usually the game involves trivia. For one game, each of us submitted "a deep dark secret" from our past. All the secrets were written on a sheet of paper and everyone had to guess which secret belonged to whom. (Some examples: Who almost became a priest, who has had 3 nose jobs, and who drove across country on his motorcycle with a convict!) Everyone's secrets were revealed at dinner; the results had all of us laughing for days.
This year, the game was a fun facts trivia contest. We were divided into teams. The members of each team were identified by the colors of crepe paper sashes that they received when they arrived for the party. Here are a few questions from our game:
What was the song playing in the bar in the movie Animal House?
Which one was not one of the original characters in The Village People band?
How many lighted snowflake decorations line Washington Avenue (a street in our town)?
We always reveal the game winners during the dinner course, which followed next.
More ways to make holidays memorable