Our Wonderful Holiday Progressive Party
As told by Emily Persons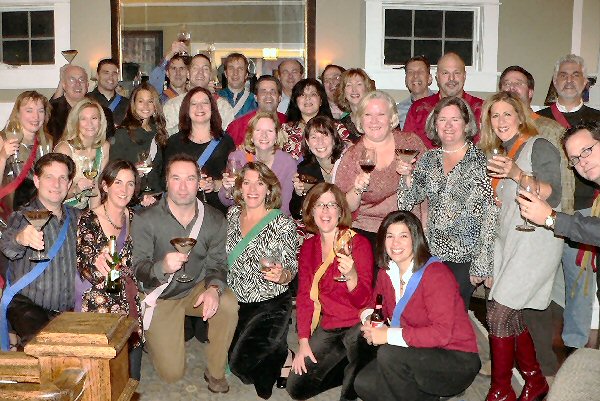 Emily Persons, front row center in black and white blouse, contacted Celebrate with Style just before she and her friends celebrated their 6th Holiday Progressive Party. We asked Emily to tell us all about it! Here, members of the group wear crepe paper sashes, which indicated their teams for the fun games part of their fabulous party. Here are the how-to's that make this progressive party so successful, each year.
We are a group of about 16 couples, most of which live in the Pichondo neighborhood of Pleasantville, New York. A few live elsewhere; several group members are relatively new to the community.

In the past, we'd had informal potluck parties during the year. But we wanted to do something special for the holidays and start a new tradition. One group member thought it would be a great idea to lessen the burden on a single hostess by having the party in three different settings—one home for cocktails and hors d'oeuvres; the second for dinner; and dessert at the third house.
On December 1st, we celebrated our friendship with our 6th annual holiday progressive dinner party, or as we call it, the Holiday Bash. It was wonderful!
Planning the party each year
Here's how it works: Coordination begins every October when one of us realizes that December is fast approaching. Someone sends an e-mail to begin discussing possible dates for the holiday party. From there, we go back and forth to determine which date is best.
Once the date is set, three people volunteer to host. Next, someone steps in to be the administrator, to coordinate volunteers for the three segments of the evening. Everyone offers to bring a dish, and usually two bottles of wine, to one of the three parts of the evening. The coordinator ensures that there are enough volunteers to help each host. The host is then responsible for coordinating the menu with his or her volunteers.
Some people have become known for making great dishes that are now requested each year. One man prepares an amazing cauliflower au gratin, one woman makes fantastic salads, and another woman's poached pears with ice cream are group favorites.
The hosts are also responsible for their own decorations, if any. Most houses are already decorated for the holidays, so little work is required.
Following are the specifics of this year's Holiday Bash:
More ways to make holidays memorable