Bar and Bat Mitzvah Planning: Parents' suggestions
Mazel Tov! Your child has begun studying for the day on which he or she reads from the Torah and, in the Jewish religion, becomes an adult.
As you plan your son or daughter's festive Bar or Bat Mitzvah, here's some advice from parents on how to avoid situations they wish they had never encountered: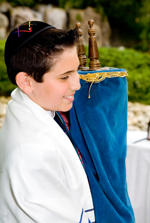 CHECK OTHER KIDS' PARTY DATES
Of course you'll try to avoid date conflicts that involve your children's friends, your friends' children, or dates reserved by other members of your synagogue.
But the mistake that Jessica, of Glen Cove, New York, made when booking her son's Bar Mitzvah party was forgetting to check dates for kids who attend schools other than the one her son attends.
"One of the kids from a nearby school had scheduled his party for the same date and time as Sam's. So some of Sam's friends missed his party," Jessica recalls. "Checking dates more extensively would have saved our son some disappointment," she says.
BE CAREFUL ABOUT PLANNING TWO-DAY CELEBRATIONS
Some families plan a light brunch for guests following the Saturday morning service and then throw a larger party the next day. Doing this, however, can shorten the guest list for each party.
Consider guests' time, travel, and expenses: To Lori, of Bethesda, Maryland, having two parties was the biggest mistake she made when planning her son Jake's Bar Mitzvah celebration.
"Many people who live a few hours away didn't want to stay overnight. And they didn't want to make the long drive twice," she explains. Consequently, the guest list for Sunday consisted mostly of local kids. Spreading the affair over two days prevented Lori and her husband from having lots of family members and friends celebrating at the party that they had envisioned.
INVITE ENTIRE FAMILIES WHEN POSSIBILE
The expense of a catered affair can prompt people to cut their guest lists drastically. It's important, however, to consider the implications of some cuts.
Child care always an issue: Dina, from North Miami Beach, Florida, unintentionally caused stress and hurt feelings by inviting adults to a Sunday afternoon Bar Mitzvah party–without their children.
Some of the invited guests mentioned their child care dilemma to Dina in advance, and she extended the invitation to their children. Others, however, said nothing. Only later did Dina learn that couples who had left the party early or who had declined the invitation altogether had done so because of difficulties with babysitting.
In retrospect, Dina realizes that those guests whose kids weren't there were undoubtedly upset that invitations to children had been selective–and didn't include theirs.
"It wasn't worth the awkwardness of people having to say something to me, or the grief of causing unintended hurt feelings," says Dina, who wishes she had done everything differently. "The few extra people on the guest list just wouldn't have made a huge difference in the cost of the party."
Invitation image source: TinyPrints.