Oscar viewing party
FESTIVE PARTY COCKTAILS AND FUN GAMES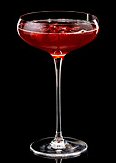 For drinks, serve champange or sparkling wine-based cocktails. Heres a festive cocktail recipe, adapted from the offical Oscar website, that you can serve at your awards viewing party:
The Red Carpet Fizz
Makes 1 drink
1/2 oz. pomegranate juice
1/3 oz. orange liqueur
Fresh raspberries
Champagne or sparkling wine
Low-cost option: Instead of buying costly champagne, try sparkling prosecco (Italian) or cava (Spanish) wine.
Here's a quick trick to make your cocktails gorgeous and tasty:
Pour about 1 ounce of almost any fruit-yummy liqueur into a lovely champagne flute and then slowly pour in 4 or 5 ounces of prosecco or cava. (Don't stir-you'll lose the bubbles!) Then garnish with berries, cherries, or an orange slice.
Some delicious liqueur choices, along with their flavors:
Chambord--raspberry
Grand Marnier--orange (or Triple sec, if you like it sweeter)
Marie Brizzard--blackberry
Cherry Heering--cherry
Créme de cassis--black currant
Apricot brandy--apricot
PARTY GAMES
Keep your guests entertained with these fun party games, all from the offical Oscar Web site. Fill small gift bags with prizes for the winners.
Oscar ballot: Have your guests predict the winners.
Oscar bingo: Download 9 different printable bingo cards.
Oscar trivia: Fun oscar-related questions.
Image source: Academy of Motion Picture Arts and Sciences
More expert advice and party planning tips