Oscar viewing party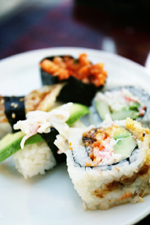 This year's ASIAN-INSPIRED PARTY MENU
Celebrity chef and long-time Oscar caterer, Wolfgang Puck, looked East for menu inspiration. Hollywood's A-listers will dine on: appetizers such as wasabi pea-crusted crab cake with mango and Thai basil, vegetable spring rolls with sweet and spicy dippping sauce, mini kobe burgers with aged cheddar and remoulade, blini (miniature crepes) with smoked salmon, and a sushi and seafood station.
The dinner menu includes several options including Asian vegetable salad with Maine lobster, caviar and ginger white soy vinaigrette, and pumpkin coconut soup with chicken.
Here are some less labor-intensive ideas for Asian-inspired recipes, adapted from Wolfgang Puck's exquisite selections:
Smoked salmon appetizer
For the Governor's Ball, Puck will be preparing blini (miniature crêpes) with smoked salmon. For an equally delicious, but much less labor-intensive way to serve elegant smoked salmon, spread crackers, Melba toast, or rounds sliced from a baguette with any of these spreads; place sliced or chopped smoked salmon on top, and use any of the garnishes listed below:
Spreads:
Herbed cream cheese
Honey Dijon mustard
Cream cheese blended with a bit of milk, to soften, plus chopped fresh dill or green onions to taste
8 oz. cream cheese blended with 1 Tbs. horseradish
Garnishes:
Sprigs of fresh dill
Finely chopped red onion
Capers
Chopped cucumbers
Image source: Whole Foods Market
Wolfgang Puck's butter lettuce salad with mandarin oranges and citrus vinaigrette
Serves 4
1 head butter lettuce, leaves separated, washed, and dried
1/3 cup Mandarin orange sections
2 tsp. fresh chives
2 or 3 radishes, thinly sliced (optional)
1/2 cup citrus vinaigrette (recipe follows)
Tear the leaves into medium pieces.
Toss with the orange sections, chives, radishes, and vinaigrette.
If not serving right away, keep refrigerated.
Citrus Vinaigrette
Makes 1-1/8 cups
1 1/2 cups orange juice
1 shallot, minced
1 tsp. minced fresh thyme
2 Tbs. balsamic vinegar
1/3 cup olive oil
1/3 cup walnut or hazelnut oil, or use 2/3 cup of olive oil in all
Kosher salt and freshly ground black pepper
Mix all ingredients together.
Serve with salad.
This recipe, from Wolfgang Puck, is posted on the official Oscar Web site.
MORE ASIAN-INSPIRED MENU OPTIONS
Appetizers:
Chicken, shrimp, or vegetable spring rolls with dipping sauces
Spicy apricot sesame chicken wings
Scallops wrapped with bacon
Dinner:
Sweet and sour chicken
Beef and pepper stir-fry
Teriyaki pork lettuce wraps
Fried rice
Image source: Sesame chicken by blogchefdotnet on Flickr.com
More expert advice and party planning tips