Oscar viewing party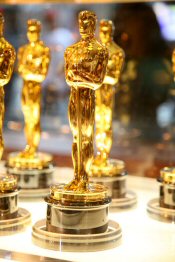 It's clearly one of the most fun TV-viewing nights of the year--and a great excuse for a party! The red carpet, the flashing lightbulbs, the gorgeous gowns, and the tearful acceptance speeches keep us coming back for more.
After the Academy Awards show ends, the motion picture industry elite will head off to the Governors Ball—the party that always reflects some of the hottest trends in events.
This year, however, the party will be a bit more low-key than in years past. The event team has chosen a calm yet elegant Asian-style theme. The décor includes a cool color palate, metallics, bonsai trees, calla lilies, glass chargers and vases, and bamboo accents.
To help you re-create some of the elegant Hollywood Big Night party components, the Academy of Motion Picture Arts and Sciences has put together an Oscar Party Kit on the event's official Web site.
In addition, we've put together some more ideas to help you plan a pretty and affordable Oscar-worthy party of your own: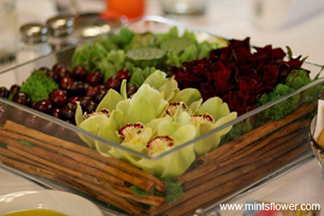 Exotic flowers: If you grow orchids in your home, you've got Asian table décor already! One or more potted orchids will lend elegance to your table. Orchids are widely available in nurseries, home improvement stores, and supermarkets.
If you are going to buy freshly cut flowers, choose lilies, orchids, bear grass, or peonies to keep with a Zen theme. Make small arrangements using just a few flowers in short glasses or inexpensive bud vases. (These Asian array miniature vases are a fantastic choice). Also, see our tips to help you create these simple arrangements
Another approach, featuring dramatic contrasts, is shown in this centerpiece created by Mints Flowers (pictured at left). It uses cinnamon sticks, apple green orchids, cherries, lotus pods, and black roses.
Yet another simple idea is to use bamboo plants, which will brighten your home (and according to folklore, bring good luck!) long after your dinner party is over. These, too, are widely available in nurseries and supermarkets.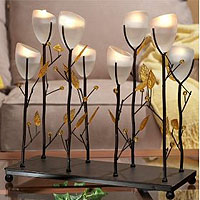 Mood lighting: Candles are a great touch and they complete the calm theme. Floating, pillar, tea light, or LED candles are all great choices. Hanging lanterns are also fun additions. They serve as beautiful décor and delicate lighting.
Beautiful paper designs: For your table, get a gorgeous, rich moiré paper tablecloth and paper napkins with a floral design.
You can find a large selection of beautiful, affordable tablecloths and napkins at Plum Party. The company also offers a large selection of paper products for an Asian party theme.
Bamboo: Serve appetizers on bamboo trays or on ceramics with bamboo accents. Bamboo placements are another affordable addition to your party table that you can use over again.
If you're going for fun rather than a Zen atmosphere, decorate with a Hollywood theme. Create an atmosphere that makes your guests feel like movie stars. Check out these beautiful decorations from Plum Party.
The company's selection includes glamorous paper plates, stylish serving trays, luxorious silver or gold cocktail napkins, faux jewels for tables or vases, glitzy or colorful confetti, fun party favors, and other great additions for all tastes and styles.
More expert advice and party planning tips