Optical fashion: Look Black-tie Glamorous in Eyeglasses
You've got the gown, you've got the jewels, and you're confident that your hair and makeup will look divine. But you feel like something's off. Could it be that your eyeglasses aren't as glamorous as the rest of your ensemble?
Glasses as an essential accessory—The fact is, if you're dressed to the nines in a glossy off the shoulder silk number with diamonds sparkling at your neck, granny glasses aren't going to cut it. "Choose your eyeglasses with the same attention to detail that you would your most captivating black-tie gown and accessories," advises Kentisha Silcott, a wardrobe stylist from New York.
In fact, Silcott maintains, a pair of well-designed frames can serve as the heart of your entire black tie look. "The key is to keep the balance of your look very sleek; smart, and unfussy. This way, you're showcasing those marvelous glasses—and in doing so, showcasing yourself," she says.
Image credit: Vogue eyeglasses from FramesDirect.com
Glasses and jewelry should complement each other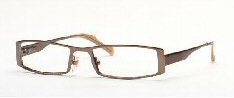 Your glasses and the jewelry you're wearing and are not mutually exclusive. For example, if your glasses are wide and angular like the Vogue frames shown here, choose a piece of jewelry with a similarly angular quality--maybe a great bold ring or a chunky bracelet.
"But don't get all matchy-matchy, which can translate as contrived and stiff. Instead feel free to mix your metals--platinum with yellow or rose-gold can be stunning," says New York jewelry designer Karen Karch. Think about the density, texture, color, and shape of your pieces [including your glasses] and how they play against one another, she counsels.
Consider the shape of your face
The shape of your glasses should enhance--not detract, from the individual curves and planes of your face. Following are four basic face shapes and the frames that will best flatter them:
Round—Look for wider, angular frames, which will give your face a thinner, more contoured appearance. Rectangular shapes are usually flattering. Dark colors, such as black or dark tortoise, will make a round face appear thinner.
Oval—Because of its inherent balance, oval is considered the ideal, so if your face is oval-shaped, you have the most choices. As a general rule, choose frames that aren't any wider than the widest part of your face—which can throw off your perfect oval. Either round or angular glasses should look great on you.
Oblong—Frames should emphasize the center of the face, to reduce length; contrasting colors also will add width. Avoid small or square-shaped glasses, which only draw attention to the angles of an oblong face.
Square—A square shape means you have a stronger jaw line and a more prominent forehead. To soften your angles, try frames with curved tops and enough width to take the focus away from the jaw line; narrow oval-shaped glasses may look best.
Think about your coloring
Skin color should help determine the color of your frames. Here's a quick lesson: if you have olive, blue, or more pink undertones to your skin, you're considered to have "cool" undertones. If so, you'll look great in black, rose, brown, gray, plum, ruby, pink, jade-green, blue, or deep-brown tortoise glasses.

Conversely, if you have yellow to yellow-peach undertones, you're considered to have "warm" undertones. In that case, gold, copper, ecru, khaki, coral, red, or blond-tortoise frames will be most flattering.
Your hairstyle matters, too
If your hair is long and you'll be wearing it loose—Long, loose hair can compete with glasses: If you wear your hair long and loose, consider rimless or semi-rimless frame like the gold, semi-rimless Versace glasses shown above. Glasses such as these are less likely to compete with your hair and offer a more subtle appearance. "Hair that's loose and free has so much movement, it's more than likely that stray pieces will fall into your face--very sexy, but with all that movement, anything more than a delicately shaped frame can be overwhelming, and you run the risk of disappearing behind all the trappings," says Bean Longo of the Beehive Salon in Williamsburg, Brooklyn.

If your hair is short or will be worn pulled back—When the profile of the face is highly visible, the temple and arms of your eyeglasses (the parts of the glasses that sit at the temples and continue alongside the ears) become significantly more prominent. Think about buying frames with beautiful detail on the temples, such as little jewels or embedded crystals.
"Glasses make a statement; they will never disappear," says Felice Dee, owner of Felice Dee Eyewear in New York City. So enjoy thinking about the statement that yours make. That way, you'll choose glasses that help you look fabulous at your next black tie affair—and any other gathering at which you want heads to turn in your direction.
Details about the glasses shown above:
Vogue: (style number VO3578)
These coppery-golden rectangular frames ($139.95) offer a slightly muted, more subtle texture. The amber arms give a lovely refined and clean look.
Versace: (style number VE1109)
These silver semi-rimless rectangular lenses ($209) are great with longer, loose hairstyles. If you do decide to pull your hair back later, their majestic wide arms are very smart, indeed!
Dolce & Gabbana: (style number DG3022B )
These oval-shaped, black lacquered frames ($310) with crystal embellished gold temples have a leopard design hidden inside the arms. They're seriously ornamental--an example of a pair that could serve as the heart of a black tie look.
You might also enjoy:
More great ways to look fabulous