One Family's Beautiful Chanukah Tradition
By Carole Jace
Every Chanukah, while their daughters Stacey and Meredith were growing up, Carole and Jack Scheckner, of Mt. Sinai, New York, lit candles on the bronze menorah that had been passed down to Jack by his mother.
The sense of family tradition made Chanukah, the Jewish festival of lights, especially meaningful for the Scheckners, throughout the years.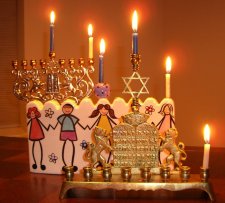 The true spirit of the holidays
When Stacey, and later Meredith, married men who weren't of the Jewish faith, Carole decided to create a new family tradition. She invited the families of both sons-in-law to join them for dinner and to participate in the Chanukah candle-lighting ceremony.
She bought additional menorahs so that each of the families who came to their home for dinner during the eight days of Chanukah could light their own candles. Carole also bought a special menorah for all of the children in the families - to light candles with their parents' help, of course.
Shown in the photo above are three of the Scheckners' favorites. The one in the back was a gift from Stacey and Meredith. In the center is the children's menorah. And in the foreground is the menorah given to Carole and Jack by his mom.
In recent years, both Stacey and Meredith have had children of their own. The number of menorahs continues to grow along with the number of families who come for dinner during the holiday.
For Carole and Jack, celebrating Chanukah has become more meaningful and enjoyable with each passing year. At the same time, the Scheckners have come to look forward to joining members of their extended family for warm and festive Christmas celebrations.
You might also enjoy:
More ways to make holidays memorable