Office holiday party ideas: Latest trends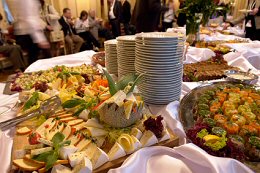 Here's a good sign that business is improving: Some 66% of office holiday party budgets will remain the same or increase, this year.
That's the finding of a new survey by GigMasters.com, an entertainment booking service in Redding, Connecticut.
This year, "many companies are bringing the party to the office," says company co-founder Kevin Kinyon. "With good catered food and great entertainment, you've got a party!"
Where company holiday party budgets are going
Great food: Some 86% of business plan to include employees' spouses and significant others, this year. So food remains the top priority for office holiday parties, accounting for 58% of overall party budgets. Dinner buffets and "hors d'oeuvres & desserts" are the most popular offerings.
Fun: Entertainment represents another 16% of party budgets, especially as more companies host parties at the office. Among the most popular types of entertainment: comedians, cover bands, balloon twisters, DJ's, impersonators, and Santa Clauses.
Where companies are cutting
Venue: Venue and decoration costs, typically 25% of office holiday party budgets, are often the targets of money-saving cuts. Companies are choosing locations that don't cost extra, such as the office or someone's home. Decorations may be re-cycled, or in some cases, eliminated entirely.
Alcohol: Alcoholic drink costs are also being pared down. Having cash bars or offering limited selections, such as wine and beer, are popular ways to save money.
Gifts: Prizes and gifts, which may have been given out in the past, are sometimes being eliminated--unless businesses can find vendors to donate gifts.
[CLICK HERE for lots of wonderful, low-cost ways for businesses to celebrate the holidays and to thank employees for a job well done!]