Holiday corporate gift giving guide
Most of the time, when you're selecting gifts for friends and loved ones, the goal is pretty clear: Except for considering if an item is within your gift-giving budget, all you need to ask yourself is, "Would he or she like it?" The question, "Is it appropriate?" would hardly ever enter your mind.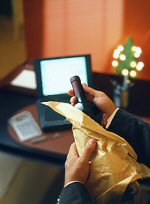 If the gift is for your employee, your boss, or your co-worker, however, "Would he or she like it?" is only part of what you must think about. "Is it appropriate?" is extremely important.
An ill-conceived business gift can seriously damage not only your working relationships, but also, your career.
Consider your role
The good news is that you needn't wring your hands at the Secret Santa office gift exchange, this year. Our easy and sensible pointers will help you choose appropriate business gifts that will be appreciated.
Here's some solid advice, organized according to your role in the festivities:
You're the Boss
You set the tone - If you don't want to receive gifts, that's fine. Send an e-mail thanking everyone who might be thinking of getting you a gift. Suggest, instead, that they bring in a new, unwrapped toy to give to a group that distributes presents to hospitalized or disadvantaged children. This is a gesture that will make every member of your team feel good.
Everyone or no one - If you decide to give gifts to your employees, include everyone in your company or in the group that you manage. The safest bet: Buy the same gift for each employee. If your group is small and you want to buy individual presents, consider gifts related to each person's hobbies, or even presents for their kids. Such gifts show thoughtfulness and consideration.
Consider giving one present for the group - How about lunch at a nice restaurant--plus an invitation for everyone to go home afterwards. Gifts of time off are always appreciated, especially during the hectic holiday season.
You're an Employee:
Be careful - Giving gifts to your boss can be risky. First, there's the question of how much to spend. "Too much," whatever that means, will make you and your boss feel awkward and your co-workers, resentful. Everyone will view the gift as an attempt to score points. On the other hand, "too little" can be embarrassing, if others clearly have spent more.
Don't go it alone - To avoid the problem of gifts that are too-expensive or not expensive enough, have everyone chip in to buy the boss something beautiful - e.g., an elegant name-brand pen, a gorgeous picture frame for his or her desk, or a leather portfolio.
More business party ideas