Must-have gifts for the uber-wealthy man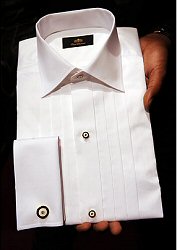 If the girl who has everything gets to carry a $62,000 diamond-studded lipstick in her evening bag, the guy who has everything certainly deserves a bit of bejewelled luxury as he heads out for an evening of gala glamor!
This dress shirt, known as The Eaton Diamond, was featured in Time as The World's Most Expensive Shirt. At $46,000, it "was launched to celebrate the 80th birthday of Eton Shirts Ltd. The Eaton diamond has seven colored diamonds that adorn the shirt studs and cufflinks."
Among the other Those Things Money Can Buy must-have gifts listed in the photo feature:
a 1919 Claude Monet painting, "Le Bassin au Nympheas," the from the famed "Water Lily" series, for $80.4 million; and
The 390-foot Motor Yacht A, an unusually designed yacht currently owned by a 36-year-old Russian industrialist.
Image source: Gareth Cattermole/Getty; Time.
More ideas for special-occasion gifts