Multicultural and festive: Great office holiday parties
Image source: flyoverpeople.net.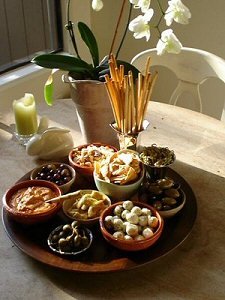 Food choices for a multicultural party—Deciding on the party menu for a holiday party simply calls for a bit of consideration. For example, due to religious requirements, beef, pork, and shellfish may be off limits for certain staff members. Similarly, alcohol and even caffeinated drinks may be unwelcome. Just be sure that the party menu is broad, and includes a number of vegetarian options. And have soft drinks, juices, and possibly non-alcoholic punch on hand.
Music—Music contributes to the atmosphere of any party. Keep the party playlist classic and neutral. Light rock or jazz are always safe.
Under-$15 gift exchange—The exchange of relatively inexpensive gifts is a holiday tradition at many companies. Of course, working in a small business makes it easier for employees to select items for people they know.
Here's a fun way to run a gift exchange for people who may not know each other. Have everyone bring a wrapped, holiday-neutral and gender-neutral gift in the $5 to $15 price range.
Some good choices: Coffee or soup mugs; seed packets in a planter; coffee or tea; dried fruit; nuts; book; gourmet jam; a set of coasters; small bowl or candy dish; 2009 calendar; carefully-wrapped cookies; scented candle; picture frame; candy; note paper; vase.
Put all the wrapped gifts on one table or in one section of the room, with a numbered sticker on each gift. The Gift Grab-bag will contain identically folded pieces of paper; each will have a number written on it. At some point in the evening, or at the end of the party, every participant reaches into the Gift Grab bag to get a folded number. The number each person picks is the number of the gift he or she gets.
Focus on what matters—More important to a multicultural office holiday party than food, decorations, music, or gifts is the attitude of company executives. "Put the emphasis on celebrating," advises Thiederman.
The host should make a welcome statement that recognizes the company's multiculturalism. A possible greeting: "Look at the wonderful diversity of backgrounds and traditions represented here. Not only are we celebrating the holiday season and a job well done, but also the fact that we're all together in this room."
Image source: Good food is always in style
Here are a few neutral choices for holiday ornaments:
Porcelain Snowflake Ornaments Glass Icicle Ornaments Heart & Star Ornaments
You may also enjoy:


More ways to make holidays memorable