Mix-and-Match Cinco de Mayo Party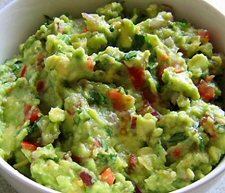 GUACAMOLE
Serve guacamole with tortilla chips as an appetizer, use it as one of the layers in 7-layer dip, or serve it as one of the tasty accompaniments to chicken enchiladas.
Blend together and chill for several hours:
4 ripe avocados (flesh should yield to slight pressure), pitted and mashed to desired texture
juice from one lime
4 small tomatoes, seeded and diced
1 fresh jalapeño pepper, seeded and finely diced , or use sliced, canned jalapeños
1/2 small red onion, diced
parsley or cilantro, salt and pepper to taste
To keep the guacamole from turning brown while it chills: Place an avocado pit in the prepared guacamole; also, gently press plastic wrap over the entire surface of the guacamole, to help keep air out.
Image by Lighto on Flickr.com
7-LAYER DIP

Use a 9-inch glass pie plate or deep-sided glass bowl to create an appetizer that's as pretty as it is delicious.
Mix beans and taco seasoning mix, if desired.
Put beans at the bottom of the serving plate or bowl. Layer any combination of mix-and-match ingredients, except chips, over the bean mixture; cover.
Refrigerate several hours or until chilled. Serve with crisp tortilla chips.
Image by Vegan Noodle on Flickr.com
More delicious food for parties