Mix-and-Match Cinco de Mayo Party
Cinco de Mayo is a great excuse for a fun party. However, Mexican or Tex-Mex food is terrific for get-togethers year-round because lots of delicious dishes can be put together by using many of the same ingredients.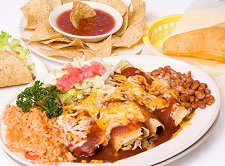 Fun and flexible: Here's a list of many popular Mexican-recipe ingredients along with some simple ways to put them together. Mix-and-match flexibility only adds to the fun–use more spice, add sautéed onions to the cooked ground beef or chicken, shred some lettuce or chop fresh cilantro for garnish.
Complete the party: To make the meal complete, serve fresh fruit, including sliced mango, or pick up some buttery Mexican Wedding Cake cookies. And serve Mexican beer such as Dos Equis or Corona, or whip up a batch of margaritas or mojitos.
Finally, to enhance the party mood, you can buy all manner of decorations. However, if you wish to keep the décor simple and ensure that clean-up is a snap, buy solid red, white, and green mix-and-match plastic or heavy-duty paper goods and plastic utensils.
And there you have it–an easy, delicious, and festive evening to share with friends. Olé!
Mix-and-Match Cinco de Mayo ingredients
Here's a guide to quantities that should serve 8 when combined. If you have leftover ingredients, simply use them in one of the other suggested dishes!
2 cans (16 oz.) refried beans or rinsed black or kidney beans
1 pkg. (1 1/2 oz.) taco seasoning mix
2 cups sour cream (regular, reduced-fat, or no-fat)
1 lb. cooked lean ground beef, seasoned with taco mix or chili powder, cumin, and salt, to taste
1 1/2 lbs. cooked, diced or shredded chicken
1 can (4 oz.) sliced jalapeños or chiles
2 cans (16 oz.) enchilada sauce
1 jar (12 oz.) prepared salsa
2 large or 3 medium tomatoes, seeded and diced
3 cups shredded cheese (regular or reduced-fat cheddar, Monterey Jack, or combination)
1/2 cup sliced green onions
1 can (7 oz.) sliced pitted ripe olives
3 bags (11.5 oz. each) tortilla chips (baked chips have less fat and fewer calories)
2 pkg. (10 to 12) eight-inch tortillas
3 cups guacamole (see recipe on page 2)
More delicious food for parties