Meet Our Valentine's Day Contest Winner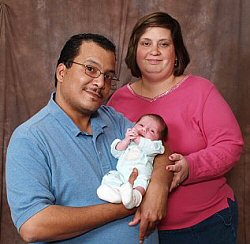 We're delighted to introduce you to the winner of our "Share Your Romantic Story" Valentine's Contest, and a $250 romantic dinner for two. He's Enrique Lopez—and the first male winner of any of our contests.
Enrique and his wife, Judy, (shown here in a recent picture with their three-week-old granddaughter, Kealey), live in Astoria, New York.
When we called to tell them that Enrique had won our contest, we found out that coincidence played a part in their love story. It turns out that Judy, then 38, had always been single. "One day," she says, "I just decided I was tired of being alone. So I ran a personal ad." Very shortly thereafter, Enrique happened to see it.
The rest of the story is Enrique's winning entry:
"My Most Romantic Story:"
"On July, 4th 1999 I answered my wife, Judy's, AOL love personal ad. Something about that ad had caught my eye. I e-mailed her to see if she would answer, and she did. We e-mailed each other and talked on the phone to see if we had anything in common.
We talked on the phone for 5 days and at the end of those 5 days, I asked Judy out on a date. I was so happy that day, and very nervous. We agreed to meet at the Central Park entrance at 59th Street in New York City. I did not know what to expect from our first date. We had a picnic in Central Park by the lake where you rent boats.
It was a nice sunny day. Judy made sandwiches and after the picnic, we walked around New York City. Then we went to the movies. It was the best date I ever had in my life.
From that first date, I felt in my heart that she was the one for me and that she would be my wife, my love, and my best friend. We have been together for almost 10 years now and got married on November 16, 2002.
This past July, we celebrated the 9th anniversary of our first date. I asked Judy to meet me at Central Park. I surprised her with a picnic lunch just like on our first date. After lunch, we walked around New York City and then went to the movies again, just like our first date.
If we live to be 100 years old, I know she will always be there to be my wife, my love, and my best friend forever."
Congratulations Enrique and Judy! Enrique's story is such a wonderful example of romance and of enduring love.
We hope you enjoy your romantic dinner for two! And may you enjoy many healthy and happy years together!
Click here to read the romantic stories that were chosen "Runner-ups" in our Valentine's Day contest.
More ways to make holidays memorable