Make the most of any business event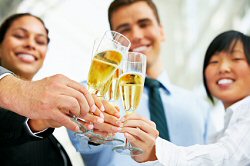 Is your company having a party? Perhaps it's a holiday party? A milestone anniversary party? Celebrating a huge new deal? Or a new client? Or a product launch?
No matter what the reason for the celebration, here's the most important thing to remember: Any office party is first and foremost about the office.
Think of a company party as a business event set to music. Enjoy yourself. But keep in mind that you're not off the clock.
Yes, you're being watched
Of course, the boss isn't likely to be writing down notes. But he or she may mentally be taking notes, to see who handles themselves well in a business social situation. You know—this time, office party; next time, client lunch...
Dress for success: Whether you're attending the company holiday party or a product launch, be sure to dress appropriately. Avoid anything too revealing or flashy. People love to gossip and you don't want it to be about your plunging neckline. See "What to wear for casual cocktails" for great fashion tips.
Mix and mingle: An office party also is an opportunity to meet and impress others. Introduce yourself to company executives as well as people in different divisions or departments. Do your homework and show you're up to date with the business. It's even OK to pitch an idea in general terms and offer to follow up at work. But don't "talk shop."
Instead, take advantage of the party atmosphere and bond over shared interests in current events, sports, the latest movies, plays, music or other cultural subjects.
More business party ideas