Make great (and pretty) sandwiches for parties
Make Great (and pretty) Sandwiches for Parties
If you've ever been served sandwiches at a party, you know that the best sandwiches for parties are often those you've created, yourself. As a host or hostess, let your guests help themselves to exactly what they want to put on their party sandwiches. Guaranteed to please!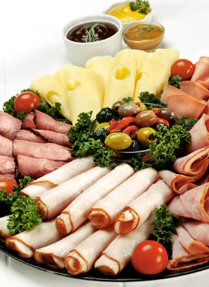 The fact is, an appealing and cost-effective alternative to buying ready-made sandwiches or wraps is to take advantage of today's customization craze.
Let guests choose from among a variety of breads. In addition to tortillas for wraps, offer:
Flat breads
Rolls
Pita
Marbleized rye
Pumpernickel, and
Corn bread.
Gourmet meats and cheeses: Overlap slices or roll delicious deli meats that include:
Honey-roasted, cracked pepper, or Cajun-spiced turkey
Richly scented Black Forest ham
Freshly sliced pepperoni, sopresata, or other types of salami.
Put together an attractive array of any of the following cheeses:
Monterey Jack
Jarlsberg
Pepper jack
Meunster, and
Fresh mozzarella slices.
Savory sandwich spreads: Offer guests such condiment spreadables as:
Roasted red pepper or olive tapenade
Grainy country mustard
Hummus
Guacamole, and
Wasabi mayonnaise.
Top-drawer toppings: Complete the selection with a multitude of toppings that guests can add to their creations. Put out a plate of lettuce leaves, along with bowls or a platter of:
Sliced or chopped fresh tomatoes
Red onion rings or chopped scallions
Oil-marinated sun dried tomatoes
Crumbled feta or shredded cheddar cheese
Crisp chopped bacon or bacon bits--and, for the daring,
Chopped jalapeños or other hot peppers.
More delicious food for parties