Low-fat dessert recipes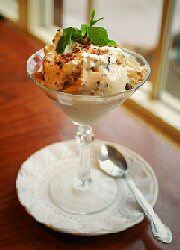 Here are 5 beautiful and festive fruit desserts that are delicious and easy to make.
Serve these desserts in traditional parfait glasses. Or use martini glasses. Or wine glasses. In fact, using almost any type of stemware—short, tall, thin, or unusually shaped, can elevate the simplest dessert to star status.

Serve some of our festive apple desserts as parfaits by layering them with a total of 1 cup of vanilla yogurt in each glass. Or simply serve them over frozen yogurt in beautiful glasses or dessert dishes.
Another reason to add these parfaits to your "Party foods" recipe collection: Made with low- or no-fat frozen yogurt, these fancy desserts allow indulging without guilt.
HONEY APPLE-CRANBERRY PARFAIT
Makes 6 Servings

1 cup apple juice concentrate, thawed
1/2 cup honey
7 cinnamon sticks
3 Golden delicious apples, peeled and thinly sliced
1/3 cup sweetened dried cranberries
1 tablespoon cornstarch
1/4 cup orange juice
3 cups vanilla yogurt
Ground cinnamon
In medium nonstick skillet, heat apple juice concentrate, honey and 1 cinnamon stick over medium heat to boiling.
Stir in apple slices and cranberries and cook 5 to 7 minutes (or until apples are crisp-tender).
In small bowl, stir cornstarch and orange juice. Stir into apple mixture in the skillet.
Stir constantly until mixture boils and thickens (approximately 2 minutes).
Remove the cinnamon stick and let the mixture cool slightly.
In each glass, alternate layers of the honey apple-cranberry mixture and vanilla yogurt, using a total of 1/2 cup of vanilla yogurt for each.
Garnish with a cinnamon stick in each glass, and sprinkle ground cinnamon over the top of each. Serve immediately.
PUMPKIN PARFAIT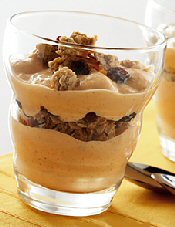 Makes 6 servings

1 16-oz. can pumpkin purée
1/2 cup brown sugar, packed
1/2 cup apple juice concentrate, thawed
2 tsp. pumpkin pie spice
3 cups vanilla yogurt
1 cup whipped cream
1/4 cup granola
In a large bowl, mix pumpkin puree, brown sugar, apple juice concentrate, pumpkin pie spice, and 1/2 cup of whipped cream.
Make layers in each individual serving glass, alternating between the pumpkin mixture and yogurt.
Top each glass with the remaining whipped cream; sprinkle granola on top.
Refrigerate until served.
AMARETTO PEAR PARFAIT
Makes 6 Servings

2 cups pears, peeled and sliced thin
3 Tbs. amaretto liqueur (or 3/4 tsp. almond extract)
2 tsp. sugar
3/4 cup coarse cookie crumbs, such as gingersnaps or biscotti
3 cups vanilla yogurt
1/4 cup sliced almonds, toasted
1/2 cup of whipped cream (optional)
Combine pears, amaretto or almond extract, and sugar. Cover and chill for an hour.
In each glass, layer about 1 Tbs. cookie crumbs, 3 Tbs. pear mixture, and 1/2 cup of vanilla yogurt. Repeat.
Top each parfait with a dollop of whipped cream, if desired, and sprinkle toasted almonds on top.
Keep refrigerated until serving.
FESTIVE FIGS OVER YOGURT
Makes 6 servings

12 dried figs, cut stems
1/2 cup port wine
1/2 cup orange juice
1/2 cup water
1 Tbs. dark brown sugar
4 whole cloves
1/2 tsp. cinnamon
1/4 cup sliced almonds, toasted
3 cups vanilla yogurt
*Substitute orange juice or apple juice for port wine, if desired
In a medium saucepan, place figs and cover with port (or juice), orange juice, water, and brown sugar. Add cloves and cinnamon.
Place saucepan, covered, in the refrigerator and allow figs to soak for a minimum of 1 hour and as long as overnight.
When ready to cook, bring liquid in pan to a boil; lower heat and simmer for about 10 to 15 minutes or until figs are tender. (Add a bit more water, if needed.)
When the figs are tender, remove from heat and set aside; remove cloves. Let figs cool in covered saucepan.
When ready to serve, spoon 1/2 cup of vanilla yogurt into each glass, and place 2 figs (still slightly warm or at room temperature) on top. Spoon leftover liquid on top of figs in each glass. Serve immediately.
Sprinkle the top of each dessert with toasted almonds.
GRAPE PARFAIT
Makes 6 servings

6 cups seedless red and/or green grapes
3 cups vanilla yogurt
3 Tbs. brown sugar
Fresh mint sprigs for garnish (optional)
Place 1/2 cup grapes in each glass; cover with 1/2 cup vanilla yogurt.
Sprinkle yogurt in each glass with about 1/2 Tbs. of brown sugar.
Repeat layers until glass is full
Refrigerate until served; garnish with sprigs of fresh mint, if desired.
You might also enjoy:
More delicious food for parties