Liven up any party theme with sunflowers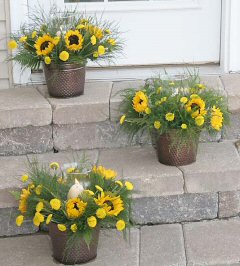 Just as recent clothing trends feature bright colors, so do party and home décor trends-- and particularly, bright yellow. Whether you're having guests over for appetizers, cocktails, dinner, or gourmet desserts, use bright decorations or flowers to add a special touch.
These beautiful and affordable arrangements, designed by Jill Slater on behalf of the Flower Promotion Organization use pretty, decorative pots.
Here's how to create these beautiful floral arrangements to place around your party area (Note: Below, you'll find affordable, pretty yellow party supplies to throw an even brighter get-together):
Materials for each sunflower arrangement:
6-inch waterproof, decorative pot (this photo features copper-colored pots)
2 bricks floral foam
Glass hurricane with candle (hurricane should be about 6 inches high)
Flowers: 5 stems small sunflowers and 5 stems yellow button chrysanthemums
Foliage: 14 stems sword fern and 5 stems tree fern (or other feathery-looking foliage that you can find)
Floral clippers, knife and scissors
Floral preservative/food
Directions:
Soak the floral foam in water that has been treated with floral preservative/food for 30 minutes.
Cut the floral foam to fit interior of the pot. The floral foam should rise about 1-inch higher than the rim of the pot.
Place hurricane with candle atop center of floral foam.
Cut sword fern stems to approximately 6-inches in length and disperse around glass hurricane.
Cut tree fern stems to approximately 5-inches in length and insert among sword ferns. The greens should almost cover the floral foam.
Cut small sunflower to varying lengths, with the longest at about 6 inches tall and the shortest, about 2 inches in length.
Insert the shortest sunflower stems closest to the edge of the pot, with longer stems towards middle. All the sunflowers should be placed evenly around the pot.
Separate the stems of the button chrysanthemums from the main stem. Insert flowers sporadically throughout the pot.
Add to your sunflower theme

Wilton sunflower pan ($12.99) "Queen Bee" boquet Chocolate sunflower favors ($13.50)
20 yellow paper plates ($2.95) "Purple Petals" boquet Yellow paper lantern ($5.07)
You might also enjoy
More pretty ideas for gorgeous parties