L.A. Evening Style: Casual is King
By Jessica Koslow
When it comes to dressing up to go out in L.A., most women right now are opting for comfortable, first-and sexy, second. Several prominent retailers agree on women's number one choice for nighttime party attire right now: jeans. "It seems jeans never die," assures Athena Helbing, of Flair, at Santa Monica's Fred Segal.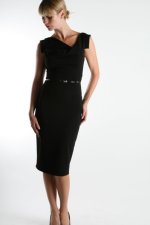 Patricia Flores of Hype, in Santa Monica, agrees. "Everyone's still searching for the perfect jean that makes them feel sexy. L.A. is very denim-driven," she says. "People always ask for True Religion ($172-$372), and Seven ($200) jeans."
Teena Sahebi at Blonde LA (blondela.com), also in Santa Monica, adds other popular names, including J Brand ($158) and Tsubi ($200-$300).
What's the in jean style these days? "The 'skinny jean' (leg, that is) wins in popularity," says Helbing. "It makes the basis of an easy outfit with a pair of heels-stilettos or wedges are still favorites. As the jeans get tighter on your legs," she advises, "you need blousier tops to balance out the thighs. And if you don't look like Kate Moss, it's also better to have a fuller top for balance."
(Photo courtesy of Blonde LA)
DRESSES IN SECOND PLACE
When not donning denim, L.A. women currently prefer dresses for dress-up. "I'm happy to see a return to the shapes of the '60s but with a twist of sexy," Helbing explains, "like a super short mini dress but in a shape Jackie O would have worn; a more modest shape. It's nice to see women wanting to leave more to the imagination."
Who's making the hottest slip-ons? At West Los Angeles' Kitson (shopkitson.com), a favorite shopping spot for many Hollywood celebrities, Yvonne Leung points to Gwen Stefani's L.A.M.B. snake print gown ($262.50) and Bread and Butter's balloon dress ($165).
On the other side of town, Blonde LA says that the following are hot right now: Black Halo's Jackie-O black dress ($262) (see photo); the Ferl dress by Mara Hoffman ($255); Catherine Malandrino's V-neck camel dress ($455); and Rebecca Taylor's Vermeer smocked dress ($246). Blonde's Sahebi points to other stylish choices: Mint's evergreen mini ($462); and dresses by Phillip Lim, Mayle, and Mike & Chris.
For the fall and winter, L.A. fashionistas see a variety of trends on the West Coast. One is the popularity of neutral colors. Helbing tells customers that grey, navy, crisp white and black are great investments, as always, because they go with everything. Blonde's Sahebi agrees, adding that brown and beige are colors to flaunt right now. At Kitson, red, deep purple, and stripes are of the moment.
Because of L.A.'s mild climate, coats are easily replaced with sweaters, and cashmere always works for dressing up. Helbing prefers sweater coats such as those by designers Chloe and Stella McCartney. They're great, she says, because of their nubby texture and long length. They're versatile enough to be tossed over an evening gown or thrown on over your gym clothes.
As far as accessories are concerned, popular items at Kitson's include Vita bangles ($48); the Kidada Sleeping Beauty bow necklace ($165); and Marc By Marc Jacobs apple watches ($125).
"It seems L.A. fashion is returning to self-expression and creativity, not just emulation of whatever stylist is trying to make a statement on the Olsen twins," reports Helbing, with joy.
Hollywood style favorites
In an area with so many style icons and stars, some celebrities stand out as favorites of these trendy retailers. Leung names Paris Hilton, Lindsay Lohan, Jessica Simpson, Nicole Richie and Mischa Barton as some of her preferred fashion trendsetters.
Sahebi loves Kate Moss for being extreme and a complete risk-taker; Jennifer Aniston for being classic and always looking impeccable; and Sienna Miller for her originality.
Kate Beckinsale catches Helbing's eye. "She is ultra sexy in her stilettos and wool pencil skirt. I also love Catherine Keener, who makes her boyish fashion choices (slightly bigger jeans and simple button up shirt and sneakers) so sexy."
Most important for Helbing, however, is the idea that women should buy what's right for their own figures, and not necessarily what looks good on Hollywood icons who spend hours each day working to stay in shape. "I think some women have unrealistic expectations of what clothes are going to do for them," Helbing points out. "Besides, looking healthy makes a woman more attractive than does the perfect jeans or a million-dollar dress."
You might also enjoy:
More great ways to look fabulous