Kids Pizza parties: Kids love Little Pizza Chef Parties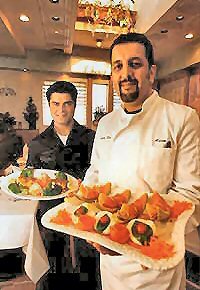 Adam Echawadi (r), and business partner, Dino Idnani, in the dining room of Mangia Bene, their restaurant in Great Neck, New York.
Here's a great recipe for a successful kids' birthday party: Make-your-own-pizzas.
This type of birthday party combines culinary creativity + delicious party food + fun games. All together, they add up to a birthday party kids love.
If you're thinking about a make-your-own-pizza party for your own child's birthday, here are some tips from Adam Echawadi--a Long Island restaurant owner whose successful "Little Pizza Chefs" kids' party business was launched purely by accident, and is now thriving!
A great party idea is born
"One night, we had a very large table of customers in the dining room," recalls Adam, who, with his business partner Dino Idnani, owns Mangia Bene, a popular Italian restaurant in Great Neck, New York.
"One little boy at the table was bored to death. He was whining loudly and clearly annoying all the other customers," he says.
Adam says he knew he had to do something. So he went to the table and asked if it would be OK for the little boy to come and "help" him in the kitchen. The little boy's parents were relieved. The boy was excited. And everyone else in the restaurant was thrilled!
When they went into the kitchen, Adam took some pizza dough, put some sauce in a bowl and brought an assortment of pizza toppings to the boy so he could create his own pizza. The child was mesmerized.
Equally important, he was happy—and quiet. Once the newly created pizza went into the oven, Adam walked the child back to his table, told him he'd be back in a few minutes, and then served the boy his creation.
Everyone at the table watched in astonishment. The child devoured every crumb of the pizza and didn't make a sound.
"His parents told me that was the first time he had ever eaten everything on his plate—anywhere," Adam recalls, smiling broadly.
The expanded "Little Pizza Chefs" parties followed almost immediately.
More ideas on creating kids' and teen parties