Table for kids: Kiddie table tips for parties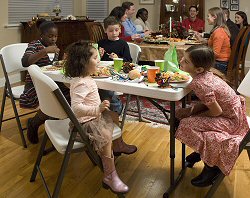 Who doesn't remember sitting at the "kiddie table" at one time or another?
According to a recent survey, 61% of adults and 72% of kids have memories of sitting with laughing siblings and cousins, away from the grown-ups, in their own little enclave.
Lifetime Products, a company that makes tables, chairs, and other types of furniture, manufactures a table that can adjust to three different heights, as the kids grow. The company suggests a few ways to make sitting at the kiddie table special for all of the young family members and friends.
Let the kids have "special" unbreakable dishes in paper or plastic that can carry through the pattern or color theme of the holiday.
Provide activities for all of the kids. Crayons, colored pencils, and washable markers can turn plain craft paper into a decorate-it-yourself tablecloth. Paper placemats are also good for individual creativity.
Be sure to have a special seat for grown-up guests to join the kids at various times during the meal—both to enjoy the conversation and keep an eye on the youngsters.
More ways to make holidays memorable