Instant decorations: Holiday style in a flash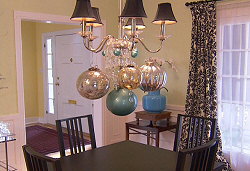 Overhead décor: Hang ornaments from your chandelier for a centerpiece over your dining room table. For even more impact, lay branches or pine sprays across the arms of the chandelier.
Soft color: Sheer ribbon wrapped around glass votive holders will give candlelight a beautiful soft colored glow.
Holiday themes: Wrap double-sided tape around cylindrical vases in a couple of places; position candy canes or cinnamon sticks around the vase; tie with bright red or green ribbon.
Unexpected holiday color: Use red or green flower pots to hold cutlery, rolled napkins on a buffet table.
Photo source: HGTV.