Instant decorations: Holiday style in a flash
It's just about that time--time to get your home ready for the holidays!
Not a lot of available hours to do it? No worry. Here are some of the quickest and easiest holiday decorating ideas we've seen: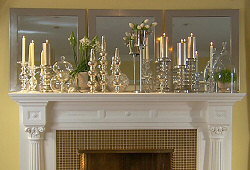 One color for instant drama: Take advantage of the impact of one color on your mantel in different presentations—e.g., all white candles (or green, or red, or gold). Glass candlesticks, votives, hurricanes will make them all look spectacular. Placing them at different heights will make your display even more gorgeous.
Make groupings of almost anything: Anything placed in clusters adds to decorating impact. For example, an odd number (3, 5, 7) of pillar candles in the same diameter but different heights will look spectacular when placed on a mirrored surface or cake plate. Sprigs of greenery around the bottom will look gorgeous. So will shiny bells or red berries.
Easy holiday card display: Punch a hole through top of each greeting card and thread with ribbon; tie ends together. Hang cards like ornaments on branches, on a wreath, or along a strip of ribbon across or on the sides of an archway.
Photo source: HGTV.