Norman Baum, Fran Zaslow Caterers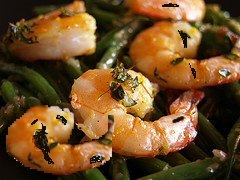 Seafood more popular: "Clients tend to eliminate beef items such as filet mignon to cut both costs and cholesterol," Baum observes. "People are looking for beef other than Chateaubriand. They also want something a little bit different," he says. "We have had great success lately with grass-fed short ribs served with truffled taro root."
He notes that customers still seek quality seafood items such as sea bass, salmon, and shrimp. A popular dish right now is "sea bass with a ginger-wasabi glaze. We also serve a tamarind grilled shrimp with fresh cilantro over Japanese rice noodles, all in a ceramic dish. We use very large shrimp for a great presentation," he says.
Fun hors d'oeuvres. Baum says that beautiful presentation is also important when it comes to hors d'oeuvres. Whether served before, or instead of, a full-course dinner, hors d'oeuvres have the potential to dazzle guests.
Among those he suggests to customers: chilled gazpacho shooters with a shrimp garnish, cheeseburger sliders on brioche, goat cheese bruschetta, and lime coconut shrimp with ginger dip.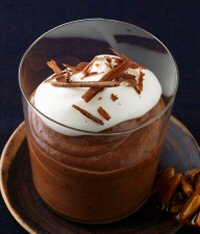 Like other caterers, Baum reports that party-goers always seem to enjoy seeing Mexican food included in hors d'oeuvres displays. "People love our homemade tortilla crisps with guacamole and mango salsa," he boasts.
Organic food popular among party hosts: Regardless of menu choices, quality food is essential, notes Baum. "You must start with good food to serve good food," he says, adding that for many customers, that now means organic.
"We use many organic products, including fruits, vegetables, and poultry." One particularly popular dish: Thai-style organic chicken breasts with a Thai glaze served over organic arugula.
Dessert bites: When it comes to desserts, tiny is still very much in vogue, Baum asserts. "A very popular way to serve desserts is to pass many small items, such as mousse in mini cups, cheesecake pops, petite egg creams with a pretzel garnish, and crème brulée spoons.