Norman Baum, Fran Zaslow Caterers
By Laurie Bain Wilson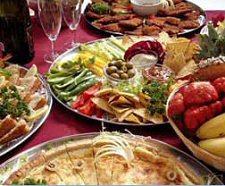 Image courtesy of Fran Zaslow Caterers
Norman Baum, owner of Fran Zaslow Caterers in Carle Place, New York, knows how hard it is to please ever-more demanding customers: "What's hot now is old hat next week," he reports. "As soon as catering customers see new things, you have to come up with the latest."
Coming up with the trendiest—when food costs are rising and business is slower—presents even greater challenges. "Our prices were set for parties booked a year or two ago. So now we have to absorb the extra charges for food, deliveries, and gas," he says.
Here, Baum shares what he suggests to customers who want to throw hip affairs yet keep their party costs under control.