Ellen Fremaux, Lawry's, Beverly Hills
By Laurie Bain Wilson
While people and businesses all over the country are dealing with money woes, even Beverly Hills has been touched by the nation's economic downturn. At Lawry's, a venerable, upscale steak restaurant that's been around since 1938, special events business is slower than it has been in recent years.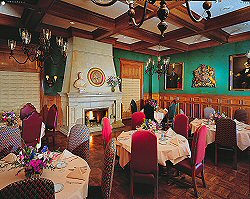 Image courtesy of Lawry's The Prime Rib in Beverly Hills
Ellen Fremaux, Sales & Marketing Manager of Lawry's, says that they're "seeing fewer guests holding events in general."
Additionally, during this difficult time, "people planning weddings and other special events seem to be reducing their guest lists. Customers are not cutting back on the menu or wine selections, she is quick to add. Instead, "they're just having smaller parties."
Here, Fremaux offers tips on how to host a stylish event when money is tight.
Timing is everything. "We recommend hosting a luncheon rather than a dinner event at the restaurant," to reduce costs, says Fremaux.
Another alternative for those planning special occasion celebrations: Host an hors d'oeuvres or a dessert-only reception. "By changing the time of these events to mid-afternoon or late-evening, there is no expectation by guests of a formal meal."
Turn day into night with candles. "For our clients who have switched from a dinner to a luncheon, we definitely recommend candles. The candles help create a mood that takes you away from thinking about daytime.
"For centerpieces, votives, candelabras and pillar candles of different heights on mirrors work very well. They're also are much more cost effective than flowers," says Fremaux.