Knapp Winery director of operations, Belinda Venuti
By Laurie Bain Wilson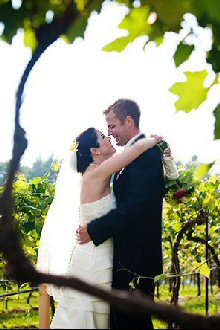 The thought of saying, "I do" at a lush vineyard in summer or autumn is the fantasy of many brides-to-be. Some wineries, however, also host sophisticated and fun parties, fundraisers, and all types of special occasion events.
Knapp Winery, in Romulus, New York, is one of them. Located along the Cayuga Wine Trail in the Finger Lakes region, Knapp hosts events ranging from casual barbecues-at which owner Gene Pierce mans the grills--to indulgent wine and chocolate pairings (Click here to see some of Knapp's most popular wine and food pairings.)
Knapp Winery also is the setting for birthday and anniversary parties, Bar Mitzvah receptions, and bachelor and bachelorette parties, says Belinda Venuti, director of operations at Knapp.
"Wineries create gorgeous event settings," says Venuti. "Many have great tasting rooms. Or, like us, they can set up tents alongside the vineyard and lovely gardens," she adds.
Photo credit: Geneve Hoffman Photography
The Best Party-Planning Ideas: "How-to Tips from the Experts!"
Find fresh, money-saving ideas about fabulous food, stunning flowers, stylish décor—and other party-planning musts—all from well-known celebration experts!