How to tips: Mara Bouvier, Chatham Bars Inn
By Laurie Bain Wilson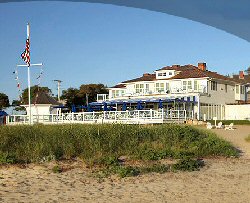 For decades, the sprawling and luxurious oceanfront Chatham Bars Inn, on Cape Cod, has been a special-occasion destination at which numerous brides and grooms have held their weddings.
It's also been the venue at which many companies have celebrated the closing of new deals. And local residents have gathered to celebrate birthdays, engagements, and anniversaries.
Like most top resorts, Chatham Bars Inn combines elegance and charm with up-to-the-moment knowledge of the latest celebration trends. Mara Bouvier, the Inn's food and beverage director, shares what Chatham's clients are looking for now, and how the Inn helps clients host a variety of stylish special events.
The Best Party-Planning Ideas: "How-to Tips from the Experts!"
Find fresh, money-saving ideas about fabulous food, stunning flowers, stylish décor—and other party-planning musts—all from well-known celebration experts!