Hottest Fall party dress-up colors
Update your party wardrobe inexpensively--with hot color!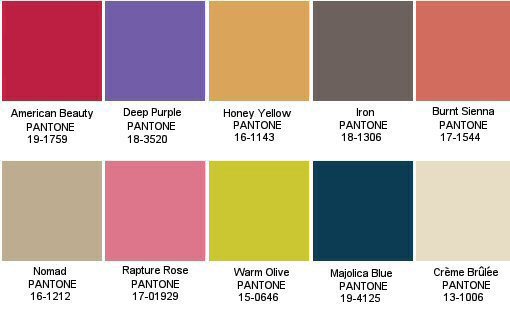 Image source: Adapted from PANTONE Color Fashion Report Fall 2009
When PANTONE proclaims the Top Colors for any season, fashion and home designers pay attention!
Recently, PANTONE announced the 10 shades that will be hottest come September. The reaction of clothing designers: "Wow!"
The color "Iron" has been hailed as this year's newest dark neutral. And "Honey Yellow" is the Fall version of the color of the year, Mimosa. (See "Think Bright Yellow for Spring Parties.")
How to use color for top party fashion value
Many designers have focused on using new colors for high-style, low-cost Fall fashion. (Note: See our fabulous, under-$100 hot-color accessory picks below!)
Here, from the PANTONE Color Fashion Report for Fall 2009, are top fashion experts' easiest "Look fabulous on a budget" tips:
Miss Sixty by Wichy Hassan—"Color is a great way to stay fashionable on a budget. A pop of something like Fuchsia or Tangerine on a scarf, bag or gloves is a great way to freshen up a more basic garment."
Ports 1961 by Tia Cibani—"I think that when one is on a budget, it is best to stay with neutrals as they are always in fashion. A hint of real color is the best way to go and is best done in small doses&clutch bag and shoes, or lipstick and nails."
Cynthia Steffe by Shaun Kearney—"Black, because a little Black dress can be styled in many different ways and is always chic."
Elie Tahari—"By incorporating rich, timeless jewel tones into her wardrobe, a woman can revitalize it and transform an otherwise simple outfit. ewel tones also look good on many different women so they tend to be easier to wear than brighter colors."
Here are some beautiful, under-$100 accessories that take "smart accessorizing" to the max:
Stud Leather Crossbody Bag($91.90) Silk Long Scarf ($69) Rose Ring($48)
Medallion Cuff($68) Big Buddha Leather Clutch(65) Suede Belt($38)
Vince Camuto 'Quest' Pump($88.95) 'Miramar' Necklace ($48) 'Rose' Satin Box Clutch ($98)
Chandelier Earrings($35) Satin Evening Clutch ($60) Tarnish Houndstooth Challis Scarf($58)
Tasseled Stole($25.90 on sale) Stacking Rings (Set of 4)($32) Chain Shoulder Bag ($88)
More great ways to look fabulous