Host a wine tasting party
By Debbe Geiger
Whether you're already a connoisseur of fine wine, or simply enjoy a glass or two now and then, one of the best ways to enjoy wine and learn more about it is to host a wine tasting for friends. Hosting such an occasion in your home is a great way for you and your guests to become more familiar with the pleasures of wine while socializing in an intimate atmosphere that is relaxed yet sophisticated.
Where do you begin? In some cases, guests bring the wines, based on the tasting theme of the evening. If you're doing a blind tasting, cover the labels or place the bottles in bags to hide their identities. Number the bottles and refer to the numbers during the taste comparisons and ratings.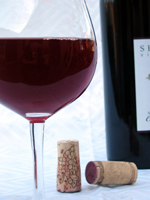 To have more fun, have guests compete to win a nominal prize for guessing the most wines correctly. And keep a book on wines handy, for a bit of read-out-loud information for everyone to share.
Bridget Quinn, tasting room manager and events coordinator at Palmer Vineyards in Riverhead, NY, offers advice for hosting a successful wine-tasting party:
Keep it intimate
Limit the guest list to no more than 15. A large gathering isn't conducive to interaction and discussion.
Pick a theme
Narrow your wine selection by focusing on a particular grape, such as Chardonnay or Merlot, and offering roughly five different bottles of each. Or, purchase five different bottles from one region, such as Cabernet Sauvignons from Long Island's North Fork or California Pinot Noirs. If you and your guests are more discerning, you might choose different vintages or years of the exact same wine to compare. (Click herefor 90+ Point Rated Wines under $20 from California
)
Less is More
Offer guests two different glasses of wine at a time, and limit the amount you pour to about two ounces.
Let the Discussion Begin
"I find a lot of people are timid to talk about what they are experiencing," say Quinn. Tasting wine is all about look, smell, and taste. That's why it's important to encourage your guests to look at the wine, and take notes on its color with pens and paper you provide. Come up with names to describe the colors you see, whether it's maroon or garnet for reds, or straw or pale green for whites.
Next, encourage guests to swirl the wine in their glasses. That lets the air and specifically, the oxygen, combine with the wine molecules, explains Quinn. Sniff the aromas, then stick your nose in the glass and really inhale. Ask guests what they smell. Is it oak, berries, fruit, or citrus? Write it down.
Finally, take a sip. "You're looking to really focus on those flavors," says Quinn. Reds are often reminiscent of berries, or they may have woody and bell pepper tastes. White wines often have apple, floral, or vanilla flavors.
Is the wine sweet or dry? Capture your first impressions on paper. Now savor the wine in your mouth.
Finally, experience the finish after it is swallowed. Does the wine linger in your mouth? Encourage guests to share their thoughts and experiences. And if wine-guessing competition is part of the evening's activities, have every person write down the type of wine that he or she thinks each bottle contains.
What to Serve
During the actual wine tasting, you don't want to confuse the palate with different flavors. Instead, offer guests plain crackers, pieces of bread, and glasses of water. Afterward, enjoy the leftover wine with a smorgasbord of light fare including various cheeses, olives, fruits, and chocolates.
What you serve at the end of the official tasting should compliment the varietal you chose. Medium-bodied reds such as Pinot Noir pair nicely with strong-flavored cheeses like Gruyere and cheddar--and also with milk chocolate. Lighter sauvignon blancs go with herbed cheeses and with soft, young cheeses like goat. Brie, feta, and Greek kalamata olives complement full-flavored fruity wines like Chardonnay. [Note: Click here for a list of wine and cheese pairings] For dessert, some experts recommend ending wine tastings with a sweet dessert wine, such as Muscat, and a sumptuously rich dessert, such as cheesecake.
The bottom line
The whole idea of a wine-tasting is for you and your guests to enjoy yourselves. Quinn puts it this way: The evening is "all about having fun and learning more." At the end of the evening, if everyone has had a good time, the party has been a success.
As for general guidelines on selecting wines for a wine tasting, or for any occasion, Quinn offers this advice: "Drink what you like and like what you drink."
You might also enjoy:
More how-to's for great get-togethers