Wine and food pairing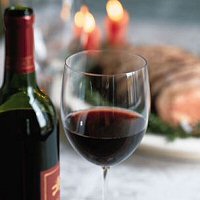 Serve the perfect wines to complement different courses or simply one wine for the main dish at your holiday gathering.
Here is a wonderful pairing chart that features both red and white wines and the elegant holiday foods with which they go perfectly.
The chart, adapted from Lunds and Byerly's, a retail and catering company in the Twin Cities area of Minnesota, is a great starting point.
For specific suggestions of wines at different price points, see the Perfect Party Picklist offered by wine.com.
| | |
| --- | --- |
| Type of wine | Main dish pairing |
| Pinot Noir (red) | Turkey, lamb, duck, salmon, swordfish, tuna, or scallops. |
| Chardonnay (white) | Turkey, veal, crab, lobster, swordfish, tuna, scallops, or shrimp. |
| Dry Riesling (white) | Turkey, seared sea scallops, grilled shrimp, pork, or crab. |
| Gewurztraminer (white) | Turkey, pork roast, ham, scallops, crab, or salmon |
| Zinfandel (red) | Turkey, duck, pasta, or pork spareribs. |
| Rosé (pink) | Ham, duck, oysters, or raw clams. |
| Sauvignon Blanc (white) | Crab, swordfish, salmon, scallops, tuna, or shrimp. |
Photo credit: Willams-Sonoma
More delicious food for parties