Holiday Progressive Party Menu
Holiday Progressive Party Recipes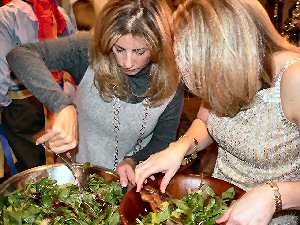 Every December, about 16 couples from a neighborhood in Pleasantville, New York, get together for a fabulous progressive party held in three different homes.
The party has become very well known, says Emily Persons, the group member who contacted Celebrate with Style to let us know about this wonderful party. "Real estate agents tell prospective buyers about the party, to show them what a warm and welcoming community we live in," she says.
Here are some of the recipes provided by the cooks who prepared these sensational dishes for this year's Holiday Bash.
STUFFED PORK ROAST TRE COLORE
Submitted by Sylvia Macera
Makes 8 to 10 regular-size servings (figure 14 to 18 small servings)
1 fat-trimmed, boneless, double pork loin roast (5 lb.)
1/2 cup seasoned breadcrumbs
1 tsp. olive oil
1/4 of a 10-ounce package of fresh spinach
1/4 lb. sliced mozzarella cheese
1 8-oz. jar of roasted peppers, drained
1/2 tsp. garlic powder
Preheat oven to 350 degrees.
Spread meat on work surface; sprinkle breadcrumbs on the inside of both pork loins, drizzle with oil.
To stuff, layer one loin with spinach, mozzarella, and roasted peppers; sprinkle with garlic powder.
Top with remaining loin and tie both loins together with string.
Drizzle a little oil in a shallow roasting pan and place the roast in the pan.
Roast for about 1 to 1 1/2 hours, until meat thermometer registers 155 to 160 degrees F.
Remove roast from oven and let stand for 10 minutes before slicing to serve.
CAULIFLOWER AU GRATIN
Submitted by Dave Harmon
Makes about 15 small servings
2 heads of cauliflower, cut into florets
5 Tbs. flour
2 tsp. dry mustard
1 stick salted butter
2 1/2 cups half-and-half, heated to just before boiling point
4 oz. Gouda, shredded
4 oz. Monterey Jack, shredded
4 oz. sharp cheddar, shredded
4 oz. Asiago cheese, shredded
lemon juice
salt and pepper to taste
Preheat oven to 350 degrees.
Steam the cauliflower for 4-5 minutes, until about half cooked.
Plunge cauliflower into ice water to stop cooking; drain.
In a small mixing bowl, combine flour and dry mustard.
Melt butter over med-high heat, being careful not to scorch. Once the butter has melted, add flour mixture, whisking constantly to avoid lumps. Lower heat to medium, keep whisking until mixture is golden.
Add 2/3 of the heated half-and-half; stir.
Add shredded cheeses, using the remaining half-and-half to thin, as necessary. The finished product should coat a spoon evenly. (Helpful tip: If, after adding the cheese, the sauce becomes stringy, stir in a few drops of lemon juice. Keep adding drops of lemon juice until the sauce is no longer stringy.)
Pour enough sauce into a greased 8 x 10-inch glass baking dish to coat the bottom. Pour in the cauliflower and cover with the rest of the cheese sauce. Sprinkle any remaining shredded cheese over the top. Cover with aluminum foil.
Bake cauliflower for 25 minutes. Remove foil and bake until top gets golden, about five more minutes.
HOLIDAY SALAD
Submitted by Jackie Burton
Makes about 15 servings
4 5-oz. bags mixed baby greens
2 cups dried cranberries
3 persimmons, peeled and chopped
3 ripe pears, peeled and chopped
1/2 cup red onion, chopped
2 cups almonds, pecans, and/or pistachios
2 cups crumbled blue cheese
1/2 cup fresh chives, chopped
Dressing:
1/4 cup balsamic vinegar
2 Tbsp. honey
1 tsp. Dijon mustard
1 tsp. Italian-flavor dry salad dressing mix
3 Tbsp. olive oil
In a large salad bowl, combine and mix all salad ingredients.
Make dressing: Blend first four ingredients in small bowl; gradually whisk in olive oil; add salt and pepper to taste.
Toss salad with dressing and serve.
INDIVIDUAL PUMPKIN CHIFFON PIES
Submitted by Stephanie Rosenbaum
Makes about 20 individual pies
3 eggs, yolks and whites separated
3/4 cup brown sugar
1 1/2 cups canned pumpkin
1/2 cup milk
1/2 tsp. salt
1 tsp. cinnamon
1/2 tsp. nutmeg
1 envelope unflavored gelatin
1/4 cup cold water
1/4 cup sugar
3-inch pie crusts (graham cracker)
Whipped cream sweetened with 1 tsp. sugar and 1 tsp. vanilla extract
In a mixing bowl, combine egg yolks, brown sugar, canned pumpkin, milk, salt, cinnamon, and nutmeg.
Cook mixture in saucepan over medium heat until thick (pudding-like consistency) stirring constantly; remove from heat.
In a small mixing bowl, combine unflavored gelatin and water.
Stir in hot mixture and chill until partially set (about 30 minutes).
In a small mixing bowl, combine egg whites and sugar. Beat until stiff.
Fold the egg whites into the pumpkin mixture.
Pour mixture into 3-inch piecrusts (graham cracker or ginger snap work well).
Set pies in the refrigerator to chill.
When ready to serve, top individual pies with whipped cream.
POACHED PEARS IN WINE SAUCE
Submitted by Cathy Schmidt
Makes about 15 small servings
4 ripe pears, peeled and cored, cut into halves or quarters (depending on size)
2 cups dry white wine, or enough to cover the pears in a pot
1/2 cup sugar
1 tsp. vanilla
1 tsp. powdered cinnamon, or 1 cinnamon stick
In a mixing bowl, combine wine, sugar, vanilla and cinnamon.
Place pears in a deep pot and cover with wine sauce.
Bring liquid to a boil, then reduce and simmer until pears are soft (about 5 minutes).
Serve warm with ice cream or chill and serve cold.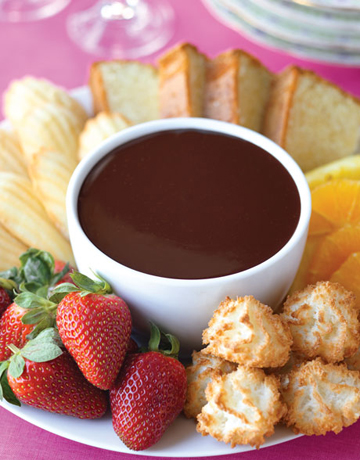 You might also enjoy:
Our Wonderful Holiday Progressive Party
Progressive dinner parties
Chocolate fondue party
Tea and chocolate: Two tasting parties
Asian-inspired recipes
More delicious food for parties