Hire a Personal Chef for a Special At-Home Celebration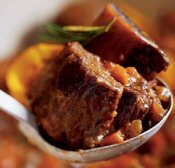 An intimate dining experience
William McCabe, a personal chef from Hauppauge (billsgreatmeals.com), whips up meals for clients from Manhattan to the Hamptons. Like Huff, McCabe prepares dinners for the super-busy, as well as multi-course delights for those celebrating special occasions. McCabe says he bases menu suggestions on the type of event and the mix of people who will be attending it. "You want people to be comfortable and not be intimidated by the food," he says.
Interestingly, Huff notes, comfort food is in high demand right now, though often with a healthy twist or a high-end makeover. One of Huff's popular dishes is wine-braised short ribs with roasted garlic smashed potatoes.
Huff says he sees increased interest in red meat among his clients. "People feel it's festive, because they aren't eating it nearly as much in their everyday diets as they used to." He's also been getting requests for "retro-style hors d'oeuvres like smoked salmon with dill and capers."
Fee plus food
When it comes to cost, the food choices that hosts or hostesses make largely determine the fees they pay. Complexity is the key variable. The cost for preparing a spectacular multi-course dinner for two could range from $200 to as much as $375.
Huff says that as a rule, he charges $50 per person for parties, plus groceries. McCabe estimates that his fee for cooking for eight to 12 people ranges from $550 to $750, plus the cost of food. Large parties may require hiring an additional server or kitchen help.
Huff says "fee-plus" pricing allows clients to have "much more control of the overall cost of their party, since they can choose to have shrimp and filet mignon or meatballs and chicken wings, based on their budgets." Fees for personal chefs usually include consultation, menu development, shopping, preparation, cooking, serving, and clean up.
The right chef for you
When deciding who'll take control of your kitchen, personal recommendations are always desirable. So is a feeling of easy communication with the chef. Candidates should be comfortable discussing their preferences, strengths and weaknesses. They also should be willing to be flexible about ingredients or menus.
When you find the right chef, book early; a personal chef can handle only one party at a time. Making arrangements as much as three to six months in advance is an especially good idea if your party is scheduled on or near a major holiday.
The key to success when working with a personal chef? "Communication," Huff emphasizes. Once you've booked the chef, give and take in determining the menu and other party details will help ensure that everything goes smoothly and that you and your guests enjoy a sensational dining experience.
Image source: James Carrier, myrecipes.com.
You might also enjoy:
More expert advice and party planning tips