Hire a Personal Chef for a Special At-Home Celebration
By Iyna Bort Caruso
Hiring a chef to prepare dinner for your friends is an indulgence that elevates at-home entertaining to white-glove standards.
Apparently, more and more people are enjoying the indulgence. According to the American Personal Chef Association, the personal chef industry will likely top $1 billion in annual sales before the decade is out. Some clients are busy dual-income earners who hire personal chefs to prepare their everyday meals; others enlist chefs to meet special dietary requirements. But a significant segment looks to personal chefs to ratchet up the exclusivity factor for their special occasions.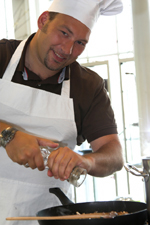 Jim Huff, a Queens-based personal chef who goes by name The Traveling Culinary Artist (travelingculinaryartist.com), serves clients throughout the metropolitan area. Huff says he often is hired for "significant" birthdays, anniversaries, and holiday entertaining. He has prepared romantic dinners for two and elegant feasts for 50.
The key advantage of a personal chef, Huff says, is flexibility. He points specifically to the ability to design made-to-order menus. "Restaurant and caterer line cooks are taught a set of recipes that seldom get adjusted based on the clients' specific palates," he says. "Personal chefs are generally flexible in terms of menus as well as individual recipes."
As a personal chef, Huff doesn't prepare foods in a commercial kitchen. All cooking is done on premises. "For more elaborate menus, this can entail cooking in the client's home for two days and finishing on the day of the party. Smaller, more intimate dinners can be prepared in a few hours. Typically, I arrive at 4 p.m. for a 7 p.m. sit-down."
Huff generally offers clients a few sample menus, discusses their preferences and asks about any food allergies. "Then I lead them toward what I think will please their palates. For sit-down dinners, I advise clients to stick to simple, clean and light hors d'oeuvres followed by four courses: appetizer, salad, entrée with side dish and dessert." A sample of an often-requested menu:
Ceviche starter
Vinaigrette salad with apples, pears, nuts and goat cheese
Rack of lamb
Roasted root vegetables with rosemary and garlic
Berries and crème fraiche
More expert advice and party planning tips