Hide dark circles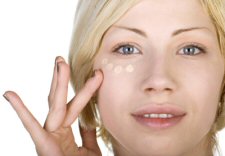 You always want to look your best. But when you're putting on make up before a special event, party perfect is what you're after!
To start with a bright, refreshed look, hide any dark circles under your eyes. Here's how:
Start with moisturizer: Always use a moisturizer on your face that contains at least SPF 15 sun protection. It will help prevent damage, and let your concealer glide on more smoothly.
Get a good concealer: A good liquid or cream concealer should be heavier in weight than your foundation, to give it staying power. Choose your exact skin shade or one shade lighter. If possible, check for the right shade in natural daylight.
Apply dots: Using a brush, or your pinky finger, apply concealer in small dots along the bottom of your under-eye area. Then blend by using your fingertip in a gentle patting, rather than smearing, motion.
Apply foundation: We prefer to use concealer before applying foundation Then, after you've smoothed on your foundation, you can check to see if your under-eye area needs a bit more concealer. Dot on and smooth a bit more, if needed.
Cover imperfections the same way: The same technique works for covering red spots or blemishes. The key move is to pat the concealer, so that it takes on the texture of your skin, and doesn't look like it's been spackled on with a trowel!

More great ways to look fabulous