Helping Girls' Prom Dreams Come True
Many Other Groups Make Prom Dreams Come True
While the Gulf Coast-focused efforts of Marisa and Leathia West and their friends and neighbors garnered much very well-deserved recognition, other volunteer groups work hard to help girls in their own communities who otherwise could not afford to buy glamorous dresses and accessories for their magical prom nights.
Here's information about some of these groups, as well as details (in green box, below) on how to locate prom donation programs in your area: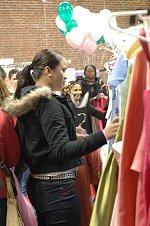 The Glass Slipper Project–This Chicago group has dressed more than 10,000 girls.
Kimberly Fisher, a board member of the organization, said that a special relationship develops between each adult volunteer and the high school girl she helps during the short time they are picking out a dress together. "We train our volunteers to be very conscientious about the girls they serve," she said. "At first, the teenagers are always a little on guard. By check-out time, however, the volunteer and the girl she's working with are best friends, exchanging phone numbers, and promising to send pictures."

For more information: http://www.glassslipperproject.org.
The Princess Project–For the past six years, this San Francisco-based organization has helped more than 5,000 Bay Area girls feel beautiful by providing them with dresses and accessories, as well as complimentary goodie bags containing everything from make-up to beauty-related gift certificates to help them feel confident and gorgeous on prom night.
The eveningwear and accessories are selected by young women at special "boutiques" held by the organization. (

Note

: Photos on this page were taken at a Princess Project boutique.)

Wanda Cole-Frieman, event chair and vice-president of the group's board of directors, explained how the Princess Project gets dresses 1) Community members bring their barely-worn dresses to drop-off sites around San Francisco; 2) Corporations and retail stores donate brand new dresses. Thousands have come from Ann Taylor, Macy's, and Loehmann's, as well as from small dress shops in the community that donate year after year, she said; and 3) The group buys dresses using cash donations made to the Princess Project.

"Prom has strong emotional tugs," said Cole-Frieman. "It's a rite of passage." The Princess Project wants every girl, from size 0 to size 40, to "feel glamorous and beautiful and self-confident."

For more information: http://www.princessproject.org.
The Fairy Godmother Project–This Massachusetts program began nine years ago when one mom saw a similar project profiled on television. "We realized we've got girls right here who could use our help, and we've got lots of dresses hanging in our closets," said Denise Hebert, a travel agent and mother of two.
The first year, the group dressed 60 girls; last year, hundreds of girls were recipients of beautiful dresses and accessories.

For more information: http://www.fairygodmotherprojectofma.org
How to Help a Young Woman Become a Prom Princess
The Princess Project lists dozens of volunteer groups and individuals throughout the country who collect prom dresses to donate to local high school girls in need. Click here to go directly to the "Events near you" out-of-state resources list.
Fairy Godmothers Inc. provides a list of over a dozen of similar volunteer groups collecting dresses across the nation and in Canada. Click here for the list of locations.
The Glass Slipper Project also offers a list for those who live outside Illinois. Click here for a list of programs, none of which is directly affiliated with the Glass Slipper Project.
More ways to help wonderful causes