Help at Hand for Passover Seder
By Debbe Geiger
The Passover holiday may span the course of eight days, but it's the first two nights that are celebrated with highly traditional meals. That's when friends and family gather for their Passover Seder to relive the history of the Jews' journey to Israel. The story is told through song and prayer during the course of lavish meals and group participation.
However, planning and preparing that meal isn't the only thing on hostess's minds. Passover is also a time when labor-intensive traditions ranging from a thorough cleaning of the house to the scrupulous setting of the table take on just as much importance. And, with so many other responsibilities to juggle in daily life, it's no wonder that more and more people are choosing to leave the art of cooking the special meals in the hands of experienced caterers.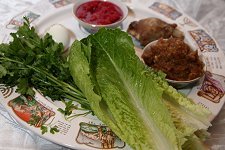 Sonia Farrow of Dominion Caterers in Pembroke Pines, Florida, says she's seen a large increase in the number of people requesting her services since she began catering Passover Seders in 1980. "A Seder dinner takes a lot of preparation. You can't just do it all that day," she says. Letting someone else do all or some of the work, lets "you enjoy it more."
Hiring waitstaff to serve the meal can make the meal even more pleasurable. Farrow says she hires out waiters and waitresses for about $30 per hour who are experienced with the rituals of the Passover Seder; that experience makes a big difference in the success of the meal. "If you're doing your service, you want to enjoy it. This way you're not popping up every time you have to get the gefilte fish, serve wine or get the soup."
Traditional dishes are key parts of most of the Seders that Anthony Ruggerio has been preparing for his clients for the past 25 years. As owner of Zan's Kosher Deli in Lake Grove, New York, he says conventional Jewish food is what his clients request. Each year he rolls roughly 4,000 matzo balls, slices nearly 700 pounds of brisket, roasts about 300 chickens and approximately 75 turkeys. He expects this year to be no different.
His most popular dishes include chopped liver and gefilte fish for the appetizer, typical entrees like brisket, chicken and turkey, plus side dishes like potato pudding, matzo farfel, and grilled vegetables. All his meals are prepared under strict kosher rules with rabbinical supervision.
More ways to make holidays memorable