Healthy ideas: Healthy side dishes for barbecues


Healthy Side Dishes and Party-perfect Main Dish Salads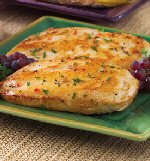 Hamburgers remain America's No. 1 favorite food for for grilling outdoors, according to experts who track food trends. However, if you decide to forego the hamburgers and hot dogs, you can turn any casual barbecue into an elegant (and wonderfully healthy!) backyard fête—as well as the basis for other sophisticated parties later in the season.
"Start with simple grilled chicken and steak," advises Monica Lynn, a certified nutritional consultant and author of 5 Square Low-Carb Meals: The 20-Day Makeover Plan with Delicious Recipes for Fast, Healthy Weight Loss and High Energy (ReganBooks). Add a healthy side dish for a guiltless party menu.
The key to healthy entertaining for a crowd, Lynn suggests, is to add some healthful side dishes and other delicious main dish alternatives. Then freeze the leftover steak and chicken, and use them to create even more inventive and healthy party fare later.
Here are some sophisticated recipes for summer entertaining and quick tips on wholesome choices when entertaining during the summer months.

Mediterranean Yellow Rice
Serves 12

4 Tbs. extra virgin olive oil
2 cups onion, diced
1 red bell pepper, diced
4 garlic cloves, minced
3 cups long grain white rice
2 tsp. turmeric
2 tsp. cumin
4 cups chicken broth
2 cups water
1 tsp. salt
½ tsp. black pepper
½ cup chopped parsley
Directions
Heat oil in a large nonstick skillet over medium-high heat. Add onion, red pepper and garlic; cook about 2 minutes.
Stir in rice, turmeric and cumin; cook 1 minute.
Add broth, water, salt and pepper and bring to a boil.
Reduce heat to medium-low, cover and simmer until liquid is completely absorbed, about 17 to 20 minutes.
Remove from heat; stir in parsley immediately before serving.
Special Video Bonus: Healthy Pasta Primavera
For a quick and delicious, healthy, light party dish that you can serve for any casual gathering, check out this great take on colorful "Pasta Primavera" Hot or cold weather? Any time! Healthy Pasta Primavera Recipe
Zesty Couscous Salad
Serves 8
1 1/3 cups chicken broth (14-oz. can)
2 cups couscous, uncooked
1 1/2 cups canned garbanzo beans, drained
1 cup cucumber, chopped, seeded, unpeeled
1/2 cup sweet red bell pepper, diced
4 Tbs. green onions, chopped
6 Tbs. balsamic vinegar
2 Tbs. olive oil
2 Tbs. Dijon mustard
1 tsp. lemon peel
1/2 tsp. black pepper
1 tsp. lemon pepper
Directions
In a medium saucepan, bring broth to a boil; stir in couscous.
Remove from heat, cover, and let stand for 5 minutes. Fluff with a fork; let cool for 10 minutes.
In a large bowl, lightly toss couscous with garbanzo beans, cucumber, red pepper and onions.
Mix balsamic vinegar, olive oil, mustard, lemon rind and black pepper.
Add to couscous mixture and toss. Garnish with lemon pepper.
Recipe adapted from and photo by the Wheat Foods Council
More delicious food for parties