Great Rentals for Backyard Birthday Bashes
By Debbe Geiger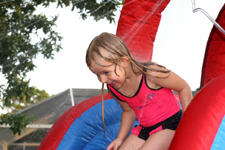 Want to go all out for your child's birthday this year? There are so many ways you can make the day special simply by bringing the entertainment right to your backyard. The key to success, says Brian Stalter of Imagine That!!, a Hicksville, NY-based entertainment company, is to keep the kids busy.
"You can't expect kids to be content with just one activity any more. They'll just run around and go nuts. You have to have things for them to do."
One of the most popular ways to do that is renting an inflatable contraption that they can bounce on, slide down, and play all over. They're available in many shapes and sizes, from 18-foot water slides to 65-foot long obstacle courses.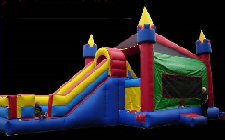 The most popular item is the castle jump/slide, shown at right, says Nicole Baldwin of Bounce House Entertainment in Dix Hills, NY. This inflatable, which takes up 20-feet x 35-feet of your property, has an 18-square foot bouncing area as well as a 10-foot slide attached to the side. Two attendants will deliver the inflatable, set it up 30 minutes beforehand, and supervise its use. "They make sure no one gets hurt," explains Baldwin. They also go over the rules with the children and limit the number of kids using it at any given time.
The bigger the inflatable, the higher the cost. The castle jump/slide runs $350 for two hours. Each additional hour is $125. The 18-foot water slide costs $395 and also comes with two attendants, while the 65-foot obstacle course costs $500 and includes three attendants supervising the kids. More supervision is needed because of its length, and because two people can race through the obstacle at the same time.
If you're thinking about inflatables and worried about rain policies, no need to worry. Most companies will honor a rain date or return your deposit.
[Important note about keeping the birthday party kids safe: Supervision is always the key to helping kids have fun and stay safe. However, certain activities bring high risks—and should definitely be off the party activity list, and probably, your backyard fun to-do list. Falls from tree houses and rope swings account for more than 3,500 emergency visits per year. As for backyard trampolines, the American Academy of Pediatrics notes that 170 kids a day are injured. Their advice for families and schools considering setting up trampolines? Don't!]
More expert advice and party planning tips