Great party idea: Champagne and chocolate tasting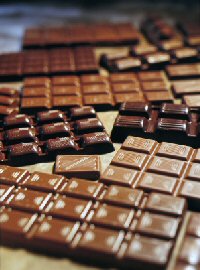 We just saw an article that we thought suggested a great Girls' Night Out or a fun evening with any group of friends.
The feature, written by Elizabeth Licata, appears in Nation's Restaurant News.
The article mentions an event series being run by 30 of the 78 Morton's the Steakhouse restaurants through November: champagne and chocolate tastings.
"Pairing champagne with chocolate is unusual," notes Tylor Field, Morton's vice president of wine and spirits. Sugary foods are "a no-no" with most champagnes and sparkling wines.
"But the way chocolates are made now, especially from artisanal companies, they're using different spices and savory components—salts and things like that, so you can really make it work," he explains.
How the tastings work
According to the article, "The programs run for an hour and a half and begin with a selection of hors d'oeuvres including mini filet mignon sandwiches, broiled sea scallops and smoked salmon wedges. The salty food pairs well with the Piper Sonoma Brut, says Field.
"The menu for the chocolate [Vosges] and champagne [Piper Heidsieck] event includes four varieties of chocolates. First on the list is a "gianduja" prepared with milk chocolate, almonds and caramelized walnut paste. The "ambrosia" is white chocolate with macadamia nuts and orange liquors, and the "naga" is a milk chocolate with curry and coconut. Finally there is the chocolate with pink Himalayan sea salt and goji berries in milk chocolate. According to Field, the chocolates will be offered with a brut and a rosé, so guests can try all the different possible pairings and learn for themselves which ones they like best."
The event costs $45 per person. If you're near a Morton's, you can find out if that restaurant is having one of the events by going to the chain's locations map. Find the restaurant near you and click on "Special Events. "
More how-to's for great get-togethers