Teen party ideas
Great teen party ideas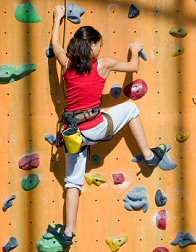 Not all teens want over-the-top teen parties or Sweet Sixteen birthday parties. And of course, not all parents can afford to pay for them!
We wanted to find popular alternatives to the costly teen birthday boys and birthday girls celebrations we see on TV.
So we asked a bunch of mothers of teens what their kids have enjoyed doing for recent birthday celebrations.
While some teen birthday girls' parties focus on primping and pampering, some moms said that both their sons and daughters have enjoyed more outdoorsy and sports-oriented activities.
Here are some of the most popular teen girl and boy ideas we ran across. Some included family members, only. Others were fun boys and girls ideas for the birthday boy or girl and some close friends:
Tickets to a sporting event
Sports afternoon or evening, including everyone hitting in a batting cage, or indoor rock climbing, or going up against tennis ball machines; another possibility—flying trapeze experience for the teens—if there's one nearby.
A mall scavenger hunt, in which kids have to locate certain landmarks, or find specific items in store windows; prizes awarded to the winning team
A trip on a party boat
The familiar spa party for girls, at a salon or at home. Click here for the perfect party decor ideas for teen birthday girls.
An introductory group golf lesson for the birthday boy or girl and his/her friends
A treasure hunt at home or in another location—everyone looks for the same item; prizes awarded
At-home casino night or Texas Hold-em match. Click here for poker party supplies.
Movie night at home or in a local theater, with lots of snacks and movie(s) chosen by the birthday boy or girl. Click here for great movie choices for teen girls.
Karaoke contest (the other kids are the judges)
Concert tickets, if affordable
Old-fashioned, fun, backyard team relay races (three-legged race, wheelbarrow races, racing with an egg on a spoon, hot potato, water balloon toss--you and your kids can think of many more)
An experience trip, such as camping, canoeing, white-water rafting; supervised by parents as well as professionals, of course
Hiring an entertainer such as a magician or hypnotist who specifically works with teens
Jewelry-making, using one or two pre-made kits, or bulk materials from a craft or bead store
Any type of group sports competition, such as softball or soccer; winning team gets nominal prizes. Check out these amazing sports themed cakes and paper goods.
"Recycled inventions:" Based on one of our blog posts. Put together two identical boxes of recyclable household items--e.g., empty paper towel rolls; cans; fabric or wrapping paper pieces; lengths of rope or ribbon; buttons, etc. Each team uses the materials to create a new "invention." Prize awarded to winning team.
More great ideas for boys' and girls' birthday parties:

Girl's 13th birthday party ideas
Affordable party extras that teens love
Top tween and teen birthday party themes
Sophisticated teen party décor
20 top party foods for teens
Great teen and tween movies
Comments
ritakontny says:
I like all your ideas and would just like to mention adding flipflops to the mix. A colorful design perhaps to match the theme of the event. Girls any age love to have something fun on their feet especially at a party together!!

Rita Kontny
yourflipflops.com rkontny@sbcglobal.net
frenchcliphairbows says:
I would like to add "Making fun greeting cards or party favors using the Cricut". This is really fun for kids who like arts and crafts.

frenchcliphairbows.com
photographer97 says:
I am a teen myself and none of these ideas interest my friends and I. I wanna know why all these adults think that we're into Hannah Montana and Magicians. We're growing up and apparently some adults can't accept that because I have looked at over 50 cites and only got one idea. These ideas are childish and boring.
sasat says:
Well photographer97, I'm a mom and just as you don't like adults to make assumptions, you are making a huge assumption yourself that "all adults think" you are into Hannah Montana and cant accept you all growing up etc. Very untrue,I wanna know why you assume all adults are the same? You have no problem posting your critical comments about the site but did you offer any suggestions since you know so well what YOU like? NO. I just hate to see an ungreatful and disrespectful teenager....thank goodness for MY greatful and respectful teenage daughter and son.
HannyxD says:
Omg you're so right Photographer97 I'm turning 13 soon and i don't want a big birthday party but all the ideas on sites are stupid and even I only got one idea from them that actually might be OK. :/ and unfortunately my names Hannah so I get alot of crappy Hannah montana stuff ;(
hi i'm a person says:
Well, sasat, i TOTALLY AGREE with photographer97. She is completely right. Yes most adults do think that. What teenager would want a magician, or to make a "recycled invention?" If it were me, I'd want a fancy limo to take a couple friends to a movie or concert. I just hate mothers who yell at kids they don't even know!
GreatfulMom says:
Well girls, while you may be right about the "Hannah Montana" parties for teens, I think that you are a bit ungrateful for any ideas at all! This is not Facebook or MySpace and I am sure that this site is really not looking for added drama. It is ideas that go out to the masses not someone who is looking for a "LIMO" to go to a concert or hang out with friends...do you know how much a limo costs? Some girls have more that a "couple" of friends and I know that for me and my daughters, they would not even expect for such an extravagant gift or an activity that is beyond the normal teen. Teen is 13-18 and there is a lot of difference between them. I have taken a few ideas from many sites...I would ask that in the future, girls, you may want to be a little more thankful that someone would share anything with you at all!
radar love says:
I am a mother of soon to be 13 and 16 year old daughter and son. My daughter wants to take her friends swimming, my son wants to take his friends paintballing. Afterwards there will be pizza and cake back at our farm. For my teenage birhtdays, I celebrated with my 7 siblings with a nice dinner at home and a birthday cake! Kids are spoiled these days. Limo and a concert??? that's a good one! My kids are spoiled and they wouldn't dare think of asking for such extravagance!
Sthephanie Brooks says:
I recently organized my daughter's 15th birthday party. It was a SPA themed party and she had a blast with a small group of best friends. They got pampered at the spa and I purchased terry cotton bathrobes and slippers for each one from http://www.cottonage.com/bath-and-spa/ They have great prices and I was able to personalize them with their names too!
OBXMOM says:
GRATEFUL!!!! Not Greatful! I do hope you mothers are teaching your children proper spelling and grammar instead of making childish crafts at a party! That would make your teen look like a child to their friends! I must agree with the teens on this blog!
Rylee12 says:
For all you moms don't pretend that your kid has never asked for something you couldn't afford or have never acted even the tiniest bit ungrateful. Btw GreatfulMom it's spelt grateful don't act like your the best mom on earth and have never been angry at your kids for asking for a toy or makeup or whatever they ask for when you don't have the extra money to spend on that maybe your kids are just so afraid of you that they don't ask you for anything because they are afraid of what you'll do or say to them if they do ask for a limo ride or if they say they don't want a stupid magician at their 13th birthday so GreatfulMom or should I say GratefulMom quit complaining and saying this website doesn't need the drama when all you did was add to the drama 😡
whatever says:
Well I am a mother of a 13yr old and I think the limo idea is brilliant. Thank you hi i'm a person. Great idea. For all of you moms that are putting down these kids, you should be ashamed of yourselves. They are only trying to tell you what they want, and most likely your kids want the same things, but don't dare ask you. I'm sure they are very grateful kids. They are just expressing their opinions. We still have our freedom of speech as I recall. So good job kids and thank you for the insight.
bethj says:
Thanks for the great list! I've tried some and had an awesome time! Another fun thing to do year round is go to Hard Knocks in Raleigh NC.(http://www.indoorwar.com/location/raleigh-north-carolina/).
We have been there 2 times already and will be coming back. It's more than just indoor laser tag. It's also a great place for parties and to keep the kids busy this winter holiday or even in the summer time.
To comment, please Login or Join